Mexico's government has agreed to sell its controversial presidential Boeing 787-8 to the government of Tajikistan, after trying to offload the twinjet for years.
President Andres Manuel Lopez Obrador, speaking in Veracruz on 21 April, said the government had sold the "ostentatious" aircraft after the Tajik authorities expressed interest.
The aircraft – one of the early Boeing demonstrators – was acquired by the Mexican government and delivered in 2014 during the presidential term of Lopez Obrador's predecessor, Enrique Pena Nieto.
Flying the aircraft within Mexico amounts to "nonsense", says Lopez Obrador, because the 787 – capable of accommodating 240 seats but configured for 80 – is designed for long-haul service, while smaller aircraft could be used to cover domestic distances.
"It is huge – there are no aircraft this size on national routes," he says. "Aeromexico does not use such aircraft for its interior trips, nor does Viva Aerobus or any airline."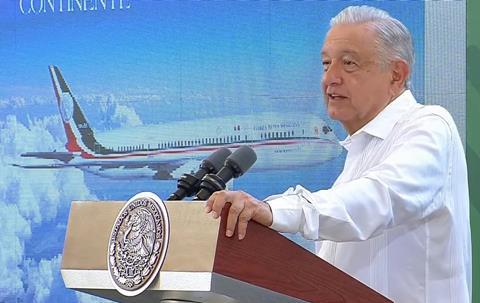 Lopez Obrador claims his government wanted to sell the jet from the outset. "I offered it to President Trump," he says. "I offered it to President Biden, we offered it to Vice-President Kamala Harris – she just laughed when I explained what the aircraft was like."
The aircraft was even the subject of an attempt to sell it via a lottery.
But the jet remained in the government's ownership until the Tajikistan leadership expressed interest. Lopez Obrador says the Tajik government "agreed to buy" the aircraft, and has paid 1.658 billion pesos ($92 million).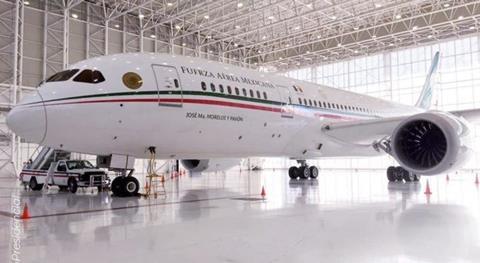 He states that the General Electric GEnx-powered aircraft (XC-MEX) was appraised, and that the price took into account depreciation and irregularities from its prototype status.
Lopez Obrador mocks the decision to name the aircraft after Jose Maria Morelos y Pavon, the priest and military figure who led the Mexican War of Independence, pointing out that moderation of opulence was part of his 'Sentimientos de la Nacion' vision for the country.
Proceeds from the aircraft sale will be used to construct two hospitals, says Lopez Obrador, in Tlapa and Tuxtepec.
"[We are] like the nouveau riche," he adds. "The nouveau riche who buy a yacht or an aircraft, and are happy when they open it for the first time. And then are happy again when they sell it."