Russia's ministry of transport is tabling a legislative proposal to withdraw subsidies intended for the Ilyushin Il-96-400M programme and redirect them to support other areas of the domestic aircraft industry.
The draft legislation follows a meeting on the Russian air transport industry held in May and a presidential directive in June.
It proposes to redistribute federal funds amounting to Rb13.8 billion ($181 million), planned for the Il-96-400M this year.
Just over Rb12 billion of this figure will be put towards other aircraft programmes, adding to Rb4.9 billion in funding previously provided in a December 2019 declaration. The balance of Rb1.78 billion would compensate state lessor GTLK for lower lease rates offered to Sukhoi Superjet 100 operators.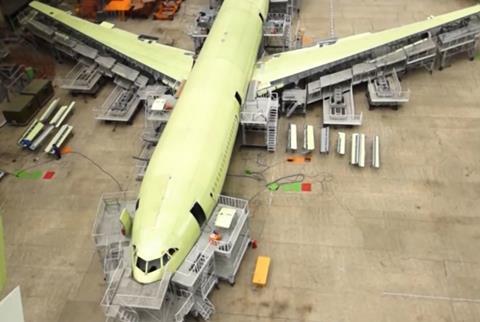 The transport ministry had put forward a suggestion, earlier this year, to allocate Rb7.2 billion to the Il-96-400M plus another Rb4.5 billion for domestic aircraft acquisition.
But the "current lack of a potential operator" for the Il-96-400M, says the draft legislation, presents a risk regarding the subsidy.
The aircraft is a stretched and modernised 386-seat version of the Il-96-300 and a single example is undergoing assembly at the VASO plant in Voronezh.
Documentation accompanying the legislative proposal details the proposed re-allocation of the Rb16.9 billion in funding, which would be put towards 56 aircraft.
These include two Superjet 100s, five L-410s and three Ilyushin Il-114-300s, plus 46 assorted helicopters – a mix of Mil Mi-8s, Mi-38s and Kazan Ansats.
This documentation puts the total funding required for the aircraft and helicopters at Rb31.35 billion, adding that a balance of Rb14.4 billion in extra-budgetary funding will be needed for the acquisitions over the period 2020-23.
It points out that the Il-114-300 and Mi-38 are new types which present additional costs during introduction to operators' fleets. The proposed financing figures will enable these operators to be offered a "preferential rate" of leasing and support further sales.
Russia's government has been trying to stimulate domestic aircraft production. Subsidy legislation for the Il-96-400M programme had stated that more than 95% of air transport in Russia was conducted by foreign-built types, and that the number of Russian-built aircraft was "constantly decreasing" – threatening to fall to just 73 by 2025.