Russia's United Aircraft has embarked on an expansion of aerospace facilities at Kazan in order to support an increase in Tupolev Tu-214 production.
The twinjet – which first flew in 1996 – has only been built in small numbers, and aircraft recently manufactured have been delivered to the Russian government rather than airlines.
But the Tu-214, fitted with Aviadvigatel PS-90 engines, is poised for revival in order to provide supplementary capacity to carriers.
State technology firm Rostec claims it will raise annual production rates of the Tu-214 to 10, and then 20, aircraft in order to produce 70 by the end of the decade.
United Aircraft says the increase in civil aircraft output is one of the "most important areas" of work for the Kazan facility and requires a "major upgrade".
"Development of the Kazan aircraft plant is one of the largest investment projects to modernise production in the industry," says general director Yuri Slyusar.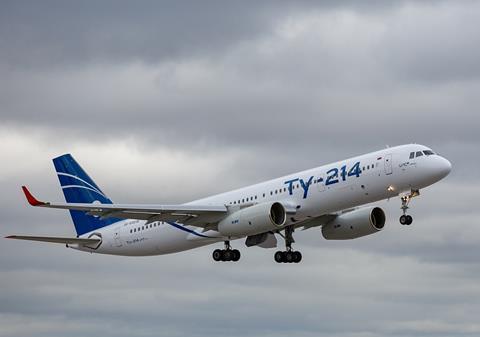 He says the initiation of projects to create new facilities will "make it possible to fulfil obligations" for delivery of Tu-214s.
Tupolev managing director Vadim Korolev says the higher production rates will be achieved with commissioning of new high-performance equipment and recruitment of additional personnel.
"This will significantly increase the plant's throughput," he adds.
Rostec states that a machining centre as well as a new building for final assembly of Tu-214s are part of the Kazan modernisation scheme.
Tatarstand republic chief Rustam Minnikhanov adds that the Kazan facility is entering a "new stage" of development.
"We launched the construction of two new production facilities on the site of the plant," he says "At the same time, we are doing a lot of work to purchase new equipment and train highly-qualified staff."