Clarity has yet to emerge over the circumstances in which a Boeing 737-800 arrived at San Diego missing a number of structural parts from its vertical fin.
The aircraft, registered N820TJ, was photographed landing at San Diego at around 15:55 on 19 May, after arriving from Southern California Logistics Airport near Victorville. The aircraft touched down on runway 27.
Its vertical fin root – from around station lines 1257 to 1396, a section some 3.5m in length – appears entirely absent while a number of panels are also missing between spar attachment points on the left side of the fin.
Images of the aircraft circulating on social media also indicate dents in the leading edge of the left-hand horizontal stabiliser.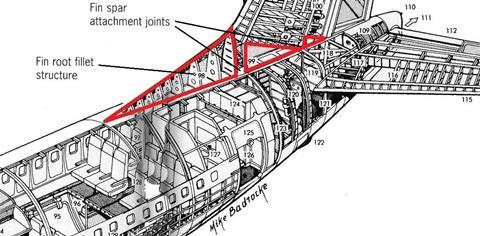 Neither the US FAA nor the US National Transportation Safety Board had recorded any incident involving the aircraft, as of 22 May.
IAero Group is listed as the operator of the aircraft. It took over US charter carrier Swift Air last year, rebranding it as IAero Airways. The company has yet to respond to inquiries on the situation.
Air-ground communications between San Diego tower and the aircraft during its arrival, archived by LiveATC, do not appear to indicate anything abnormal.
Cirium fleets data indicates that the twinjet is a 1998 airframe originally delivered to XL Airways UK and acquired by IAero last year.