Advanced propulsion developer ZeroAvia has appointed Deborah Diaz, former chief technology officer for NASA, to its board of directors.
Diaz joins the start-up's board as a non-executive director and will "help accelerate the company on its strategic journey from innovator to global leader and major supplier of zero-emission aircraft engines", ZeroAvia said on 2 October.
"We are highly fortunate to have Deborah joining the board," says Val Miftakhov, founder and chief executive of ZeroAvia.
"Her experience in overseeing complex [information technology] infrastructure at NASA, and work with many high-growth companies as a board director, give us a strong guiding hand to help us maximise the opportunities in front of us."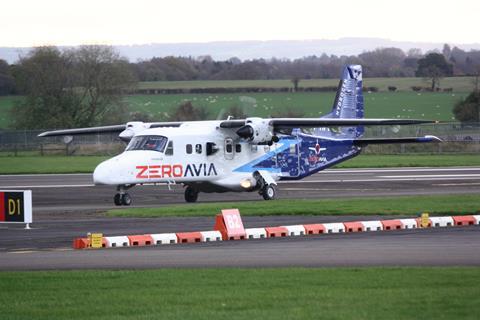 The founder and CEO of Washington, DC-based technology advisory firm Catalyst ADV, Diaz is currently a board member for both air taxi start-up Archer Aviation and Primis Financial.
During her seven-year career with NASA, Diaz "managed global system infrastructure, technology innovation, risk management, financial and regulatory stewardship, data protection and supply chain", ZeroAvia says. She also worked as NASA deputy chief information officer.
The company adds that Diaz is a "recognised global expert on international energy innovation and ESG risk mitigation".
"As the global transition to net zero intensifies, I see tremendous opportunity ahead with ZeroAvia's solid path of hydrogen-electric engines flying passengers and cargo with zero emissions within a few short years," Diaz says. "I'm looking forward to working with my board colleagues and the executive team to realise this vision."
Based in the UK and USA, ZeroAvia recently disclosed it is targeting certification of its 600kW (805hp) hydrogen fuel-cell ZA600 powertrain with the UK Civil Aviation Authority "by the end of 2025".
That would allow the company to "commence manufacturing in 2026, with the first deliveries being made that year", it says.
ZeroAvia says it is first targeting "commercial service in 9-19-seat, 300-mile aircraft" before progressing to 40-80 seat aircraft by 2027.