Airbus has undertaken verification tests of a loading system intended for lifting outsize military cargo onto the A300-600ST Beluga transport, as the airframer begins offering the type for third-party services.
The five Beluga aircraft – developed to carry Airbus aircraft structures and assemblies between the airframer's manufacturing facilities – are being replaced by the larger A330-700L BelugaXL.
But the Beluga fleet still has operational life and Airbus has been preparing the type for use as an outsize freight transport for external customers including the armed forces.
Airbus Defence & Space has tested the new loading system with the German military, the first customer for the equipment.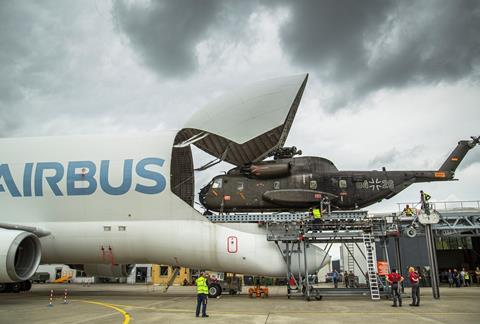 The system was used to lift a Sikorsky CH-53 helicopter into the Belgua's hold at Manching, near Ingolstadt, north of Munich.
No crane is required for the system which has a 35t lift capacity and can be relocated to the destination.
Airbus says it enables the helicopter to be loaded onto the aircraft in a "reduced state of dismantling", which takes less than 90min to prepare. The loading itself can then be achieved in another 60min.
The airframer says it developed and built the system – which is awaiting final approval from the German customer – in about a year-and-a-half.
Outsize freight capacity is "scarce", says Airbus Defence & Space chief executive Michael Schoellhorn, particularly since the reduction in availability of Antonov An-124 transports in the wake of the Ukrainian conflict.
"In light of current geopolitical developments, many customers are looking for new, fast and efficient solutions," he states.
"Speed, agility and autonomy are crucial elements for our customers when it comes to such operations."