Four converted Boeing 777-300ER freighters are to be delivered to a Hong Kong-based cargo charter carrier through a lease agreement with AerCap.
The aircraft are being converted into 777-300ERSFs under the Israel Aerospace Industries modification programme for the twinjet type.
IAI had embarked on the programme with US lessor GECAS in 2019, before AerCap's acquisition of GECAS some two years later.
AerCap has identified the customer for the four 777-300ERSFs as Fly Meta, a specialist in packaged wet-lease services established in January last year.
The twinjets – powered by General Electric GE90 engines – will be delivered over the course of 2024-25.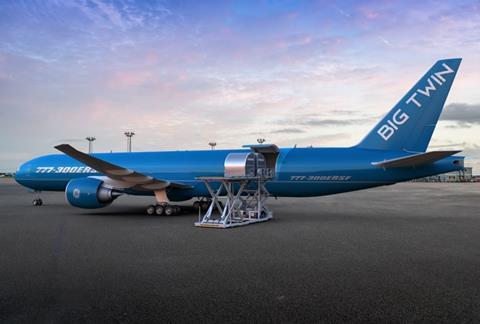 "We are confident that the situation will change for the better as China lifts its [pandemic] restrictions, and that the cargo market will grow steadily over the coming years," says Fly Meta chief Helen Chen.
"We believe that the volume capabilities and greater cost efficiencies of the 777-300ERSF will give us a competitive advantage in the market."
AerCap has 20 of the freighter type on order with options for a further 10.
US cargo carrier Kalitta Air is set to be the first operator of the 777-300ERSF, with the initial example due for delivery in the first half of this year.