Authorities in Niger have closed the country's airspace, as the African state experiences continuing political unrest.
The closure has been confirmed in a NOTAM for the Niamey flight information region which took effect on 6 August.
It states that the republic's airspace is "closed for all flights", from the ground to an unlimited altitude, including all air traffic service routes.
Niamey FIR encompasses part of Mali and Burkina Faso, but the restriction applies only to the airspace bordered by the Niger republic.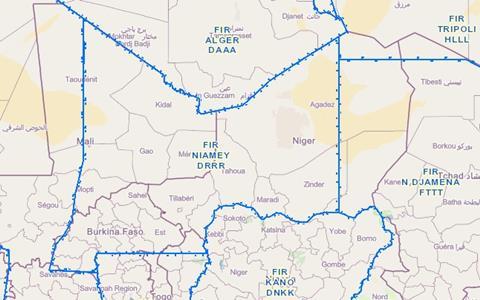 While the NOTAM is set to expire just before 8 August, the situation remains unclear.
Niger underwent a coup on 26 July, with the attempted overthrow and illegal detention of the country's president, Muhammed Bazoum, according to the Economic Community of West African States of which Niger is a member.
ECOWAS has condemned the action and called for the immediate reinstatement of Bazoum and full restoration of constitutional order in Niger.
It warned on 30 July that it would consider use of force, if necessary, to achieve this aim if the organisation's demands were not met within a week – a deadline which expired on 6 August.
ECOWAS also stated that it would implement an immediate no-fly zone over its members' territories for commercial flights to and from Niger, and impose other sanctions on finances, trade and assets.