Airbus is confident that the latest snag to affect Pratt & Whitney PW1000G engines will not disrupt A320neo-family production this year, but the airframer has yet to assess potential effects further out.
Pratt & Whitney parent RTX disclosed on 25 July that a "rare condition" in powder metal used for particular engine components, including turbine disks, will require "accelerated" fleet inspection.
Airbus says the situation centres on engines produced from the end of 2015 to the third quarter of 2021. A substantial number of in-service engines will need to be removed and inspected over the next nine to 12 months.
Engines currently being manufactured are not affected.
Airbus chief executive Guillaume Faury, speaking during a half-year briefing on 26 July, said the airframer was working with Pratt & Whitney and its customers to understand the matter and support implementation of all required inspections.
He says the company is "co-ordinating closely" with the engine manufacturer but there is "no impact" on the shipment of engines to Airbus and deliveries to customers.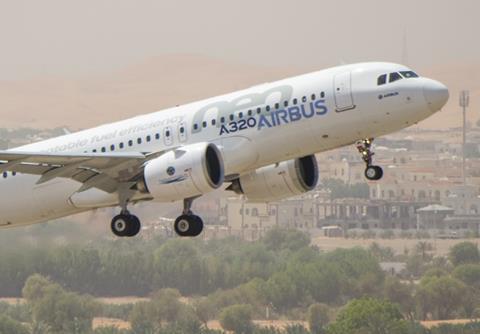 But while Faury does not expect disruption during 2023, he says Pratt & Whitney faces a "lot of work" to set up the maintenance and inspection capacity.
He adds that there is a "lot of work to be done" on indirect potential consequences arising from this increased burden on Pratt & Whitney's capacity.
The issue is "something we'll have to look at very carefully" and the airframer is "not at the point of commenting" on any possible indirect impact on production for 2024 and 2025.
Faury says the situation for customers is "very critical" and involves a "lot of frustration" given that the summer season peak is approaching.
But he also points out that Pratt & Whitney is making sure that the "right measures" are taken, based on data and evidence, to "protect safety of flight".