Airbus appears to have delivered its 13,000th aircraft during October, although it has not identified the specific operator involved.
The airframer delivered 72 aircraft over the course of the month, its highest monthly figure this year, taking its overall total for 2020 to 413.
Airbus's backlog figures show 13,039 deliveries in total across its aircraft range.
But the manufacturer has not previously claimed the 37 Bombardier CSeries jets delivered before Airbus acquired the programme and rebranded it as the A220. Adjusting for this leaves 13,002 deliveries.
The round-figure delivery appears to have taken place on 30 October, when Airbus formally handed over nine aircraft.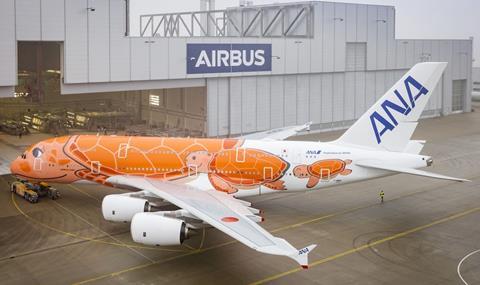 These included a single A380 – the first to be delivered this year – for Japan's All Nippon Airways, plus six A320neo-family jets and two A220s.
Along with the 98 A220s it has delivered since acquiring the CSeries programme, Airbus had handed over 9,572 other single-aisle jets, plus 1,505 A330s, 391 A350s, 243 A380s, 377 A340s and 816 A300s and A310s by the end of October 2020.