Oman has become the latest Middle Eastern state to allow transit of Israeli aircraft, a decision which will enable a reduction in flight times for carriers operating Asian routes to and from Tel Aviv.
The opening of Omani airspace follows several months of discussions between the two sides, and comes despite Omani government condemnation of recent Israeli military activity in Palestine.
Israeli foreign minister Eli Cohen describes the Omani decision as "historic" and says it will help Israeli airlines to become "more competitive".
The Omani clearance – which coincides with high-level economic co-operation talks with US government representatives – follows similar lifting of air transport restrictions against Israeli flights by a number of Arab states including the United Arab Emirates, Bahrain, Saudi Arabia, Morocco and Sudan.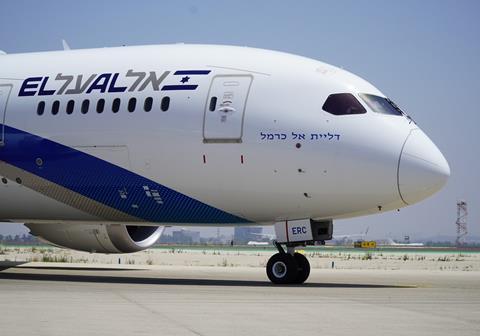 Oman's government had previously indicated a willingness to take the same step, having hosted discussions with the Israeli leadership in 2018, and having signalled approval of Bahrain's normalisation of diplomatic ties with Israel in 2020.
The Israeli ministry says flight times on Asian routes will be shortened by more than 2h, and will lead to reductions in fares.
Israeli flag-carrier El Al says the Omani transit approval will – when combined with that received from Saudi Arabia in August last year – will enable the airline to examine opening of new destinations in such countries as Australia and India.
It adds that new routes, and the shortening of others, could have a "materially positive effect" on its activities.
"This is a historic and significant decision for the Israeli economy and for the Israeli traveller," states Cohen.
He credits the successful outcome of negotiations to Omani sultan Haitham bin Tariq – who took over the Gulf state's leadership in 2020 – as well as "substantial help" from US government support.