New UK prime minister Liz Truss will need more than assurances that regional connectivity is vital to economic growth to avoid Doncaster Sheffield's following Sheffield City airport into Yorkshire aviation obscurity.
Doncaster Sheffield's financial performance hardly helps its case. It has never made a full-year operating profit since commercial operations began in April 2005.
While its near-2.9km runway – more than twice the length of Sheffield City's, which closed in 2008 – was considered an advantage for attracting airlines, Doncaster Sheffield has struggled to build a critical mass of activity, particularly in the face of macro-economic hurdles.
Even as it opened, with operations from leisure company TUI, as well as Thomas Cook and Ryanair, the airport's operator cautioned that commercial aviation was a "tough" market. The prevalence of low-cost services would mean aeronautical returns were "minimal", it said, which meant relying on non-aeronautical revenues.
But it managed to attract long-haul interest – with holiday flights to destinations including Mexico, the Caribbean, and Florida – as well as budget carriers Wizz Air and Flybe. Passenger volume climbed steadily and peaked at more than 1 million in the 2007-08 financial year, although the airport was heavily dependent on TUI which accounted for 60% of passenger business.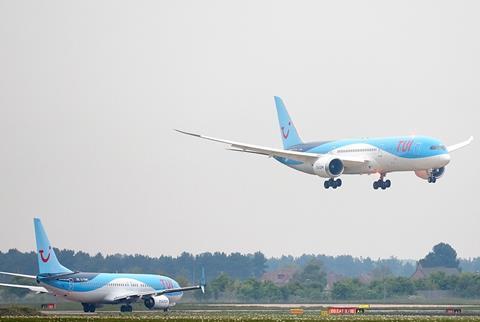 Terminal capacity remained "considerably greater" than utilisation, the airport operator acknowledged in its statement for the year, and it attributed a persistent loss-making position to the "challenging market comprising our catchment area".
"Business development is focused sharply on growing the level of services provided by existing carriers while seeking new airlines," it said.
Doncaster Sheffield was able to handle aircraft the size of Boeing 747s but scheduled cargo services proved elusive and freight activity remained ad hoc and intermittent.
The global economic downturn in 2008-09 caused substantial problems in both the passenger and freight sectors.
TUI's merger with holiday firm First Choice resulted in reductions in capacity, while Ryanair began rethinking routes as a consequence of Irish taxation.
Passenger numbers began to decline, and while the airport operator claimed carriers saw the benefits of Doncaster Sheffield, it said strategic decision-making in response to market forces – rather than lack of consumer demand – was affecting the level of activity.
With better access to the airport promised through a link road project, the operator sought to develop the airport as a major low-cost carrier base. EasyJet and Aer Lingus Regional established new operations but slow economic recovery and factors including political instability in holiday markets caused passenger numbers to continue sliding to fewer than 700,000 by 2014.
Doncaster Sheffield's operator argued that airlines' remaining focused on larger airports in the wake of the economic recession was stifling development. Although passenger numbers started to rise again in 2015 – with a growth rate claimed as the fastest outside of London – the airport was hampered by high operating costs, and its financial performance was affected by impairments.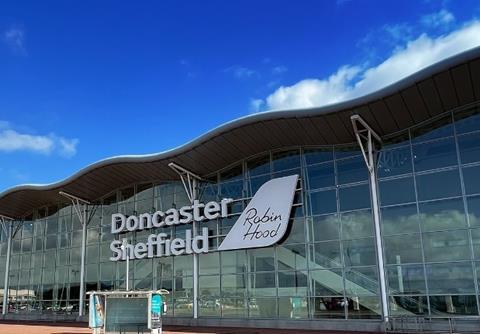 The airport restored passenger numbers to the 1 million mark during 2016-17, after nearly a decade, and with the link road nearing completion and additional airline services emerging – including a Flybe base and scheduled freighter operations – the operator was optimistic, even as it cautioned about the uncertainty and "major challenge" to air transport arising from the UK vote to leave the European Union.
But as the airport recorded its highest annual passenger levels, 1.29 million, in March 2020, the onset of the pandemic threatened to unravel the business. Flybe had ceased operations, having previously closed its Doncaster Sheffield base and, although long-term customer Wizz Air stepped in to set up its own base in October 2020, the airport operator stated that higher freight activity and non-passenger commercial operations could not compensate for the loss of passenger revenues.
Wizz Air's large backlog of aircraft orders and plans for substantial European expansion had given the airport operator cause to be upbeat over its post-crisis prospects. But when Wizz reconsidered its strategy and opted to close its Doncaster Sheffield base – leaving only TUI as a based company – the airport's owner, Peel Group, lost patience.
Peel Group initiated a review of the airport's business case, but could not identify proposals which could deal with the "intractable problem" of its "fundamental lack of financial viability", given the high fixed costs and slump in the air transport market. Absent of a rescue, the provision of aviation services at Doncaster Sheffield will be wound down from the end of October.