Operational processes for establishing a separate Qatari airspace are set to commence after the signing of a multinational agreement between the emirate and several Gulf states.
The Qatari civil aviation authority has signed the pact with representatives of Saudi Arabia, Bahrain and the United Arab Emirates.
It says the activation of operational processes for the new Doha flight information region – connecting it with surrounding airspace – will begin on 8 September. A transition period will run to 6 October.
Separation of Qatari airspace, which has previously been under Bahraini control, follows five years of discussion – notably following the political Qatari blockade in 2017, in which Bahrain's government participated alongside several other countries.
ICAO Council representatives had backed plans to create the Doha FIR at a session in March. The new airspace carries the ICAO code OTDF.
Qatar's aeronautical information publication has been updated with the new FIR details, which take effect from 8 September.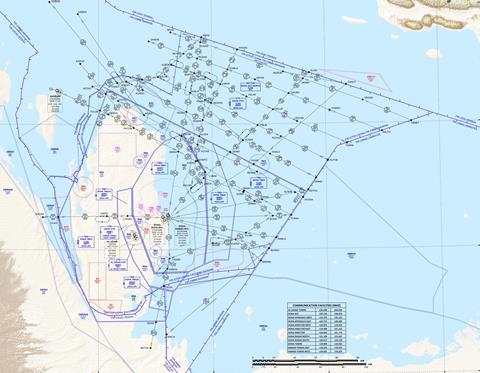 These include definition of the airspace boundary as well as flightplan requirements, Doha area centre frequencies, and transition altitude information.
Qatari transport minister Jassim Saif Ahmed Al-Sulaiti has assured that the emirate is prepared for activation of the FIR, and for the expansion of routes and increase in aircraft holding capacity.
The Qatari civil aviation sector has "significantly progressed" with air navigation system modernisation, and demonstrated an "outstanding" level of service, according to the regulator.
Qatar's government had previously signed a similar bilateral pact with Iran, which means co-operation agreements with all the surrounding airspace regions have been reached.