Russian specialists are progressing with restoration of a Douglas C-47 transport which was recovered from Siberian tundra in the country's Taimyr region.
The aircraft – bearing the registration SSSR-L1204, and named 'Bort Tyurikov' – was delivered by the US government to the Soviet Union, under the Lend-Lease programme of the Second World War.
It carried out an emergency landing in April 1947, while en route to Krasnoyarsk, coming down in remote territory some 180km north of the settlement of Volochanka.
While the landing did not lead to fatalities, several occupants left the aircraft to search for help in the harsh conditions. Commander Maxim Tyurikov and radio operator Alexi Smirnov were among them, and did not survive. Those who stayed with the C-47 were rescued about three weeks later.
The aircraft was retrieved over the course of 2016-17 during a Russian Geographical Society expedition, and is undergoing restoration in a hangar at Mochische airfield, north of Novosibirsk.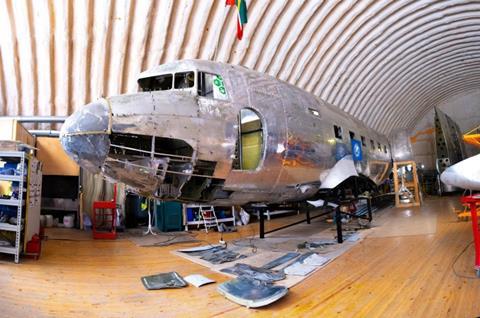 Work on both engines and propellers has been completed, with the blades straightened and the powerplants' components authentically rebuilt and painted.
"Specialists are now busy restoring the most damaged forward part of the fuselage," says the society.
Badly deformed and torn parts of the skin have been removed and, if they can be repaired, will be put back on the aircraft, it states.
Substitutes for those which cannot be repaired will be manufactured using original patterns.
"All the holes in the fuselage were sealed with patches," the society adds, while internal partitions have been restored, along with components of the passenger and cargo doors.
The C-47's tail-wheel assembly has been completely repaired, along with a number of other structures relating to the landing-gear, oil tanks, and parts of the control columns.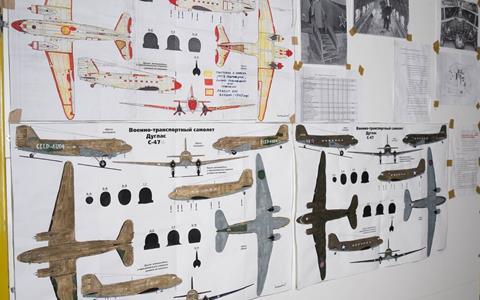 "Schemes for painting fuselage sections have already been developed and approved," says the society. It adds that painting will take place in the warmer season.
Restoration work is being undertaken by a company known as Helicopter, financially assisted by Russian energy firm Rosneft. Once complete, in about two or three years, the aircraft will be returned to Krasnoyarsk.
"It is planned to be presented as an interactive museum exhibit," says the society's Krasnoyarsk branch chair, Igor Spiridenko.