Prohibitions on Russian aircraft and airspace access has resulted in a substantial reduction in overflights of neighbouring countries, with those crossing Poland down by a third and those over Latvia and Lithuania respectively down by 25% and 46% in the month to 14 March.
Pan-European air navigation agency Eurocontrol attributes the fall partly to diversion of flights from Germany, France and the UK.
Moldovan airspace has experienced a complete loss of overflight traffic as a result of its airspace closure.
About half the overflight decline in Lithuania is due to the loss of Russian flights, but intra-European services are also operating further to the west. Lithuania is also losing Russia-bound traffic which is shifting further north to cross Estonia – whose overflights have only fallen 1%.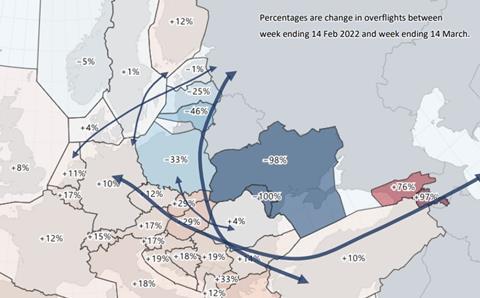 The impact on Lithuania, however, has been partly offset by transits between Turkey and Russia opting to use Lithuanian rather than Belarusian airspace.
Re-routing of aircraft away from trans-Russian sectors has also generated strong increases in traffic over other European states.
Hungarian and Slovakian airspace regions, for example, have recorded a 29% rise in overflights. The Hungarian rise – equivalent to 290 flights per day – is partly due to Asian and Middle Eastern services flying further south.
But the Caucasus region has particularly benefited from the rejig with Georgia showing a 76% increase and Armenia almost doubling its overflights.