Russia's government is proposing heavily reduced near-term budget allocations for the joint Russian-Chinese long-haul aircraft project, as part of a broad review of state aviation strategy funding.
United Aircraft and Chinese aerospace firm Comac have been working to develop the CRAIC CR929, a 280-seat twin-engined widebody jet.
The legislative proposal points out that the crisis arising from the pandemic has led to a drop in demand for new aircraft.
"Under these conditions aviation industry businesses were forced to revise their production programmes towards reduced output volume," it says.
The proposal amends budget allocations which had been laid down in March this year. It cuts the state aviation strategy's allotment for 2021-23 by nearly 10% to Rb226.5 billion ($2.96 billion).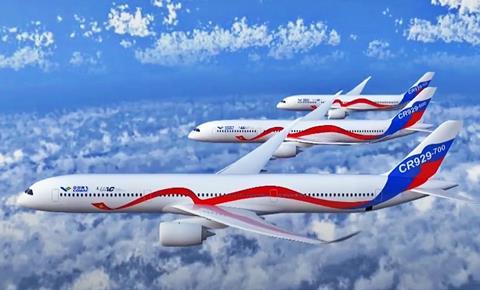 Among the changes is a heavy reduction in contributions towards United Aircraft and subsidiaries for the widebody long-haul project. The proposal refers to cuts of Rb12.5 billion, reducing the contribution to Rb8.5 billion over the three-year period.
It also mentions a "delay" in the selection process for suppliers of instruments and avionics to the long-haul programme.
Subsidies associated with sales promotion of the Irkut MC-21 to Russian and international markets have been trimmed for 2021-22, but increased for 2023.
But the proposal also indicates a significant rise in research and development spending for the MC-21 over the period. The state strategy involves maximising the substitution of imported systems and components for aircraft – including the MC-21 and Superjet 100 – and Irkut plans to certify a Russian-powered version of the MC-21, fitted with the Aviadvigatel PD-14 engine, in 2022.
Research and development allocations for the Superjet 100 are unchanged in the proposal. The Superjet is also undergoing an import-substitution effort, including the planned replacement of PowerJet SaM146 engines with a domestic PD-8 powerplant, as well as a programme to improve operational and flight performance.
Under the state aviation strategy, support is intended to address several issues such as the creation of aftersales networks for domestic aircraft.