Russia has failed to secure election to the ICAO Council during a voting session at the organisation's Assembly in Montreal.
The election featured two parts: the first focused on countries of chief importance to air transport, and the second those which make the largest contribution to provision of international civil air navigation facilities.
While the ballot is secret, successful election requires a simple majority vote from the contracting states.
Eleven candidate states, Russia among them, participated during the initial part of the election, but only 10 obtained the minimum 86 votes required.
Russia secured 80 votes, a lack of support almost certainly attributable to international disapproval over the Ukrainian conflict.
The 10 elected countries – each receiving between 147 and 152 votes – comprised Australia, Brazil, Canada, China, France, Germany, Italy, Japan, the UK and USA.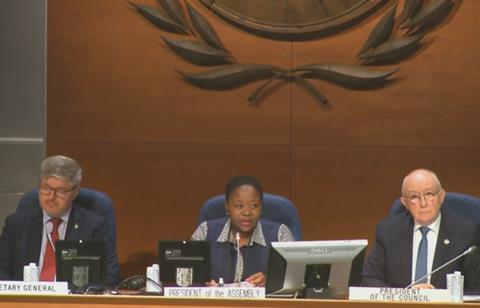 Results of the vote led to a discussion within the Assembly on the legal interpretation of rules on filling a single empty seat on the Council when the sole candidate had not secured election. The president of the Assembly, Poppy Khoza, described the situation as "unprecedented".
All 12 of the candidates for the second part of the election were successful, receiving 131 to 162 votes.
These countries comprised Argentina, Austria, Egypt, Iceland, India, Mexico, Nigeria, Saudi Arabia, Singapore, South Africa, Spain and Venezuela.
Both the Russian and Ukrainian representatives had previously given statements to the triennial Assembly, which runs until 7 October.
The Russian delegation argued that a number of countries were "attempting to use ICAO as an instrument of political pressure", and sought condemnation of bans imposed on the use of sovereign airspace.
It said such measures "devalue" the work of ICAO, and stressed the need for co-operation to address sustainable development of international civil aviation, in order to face the threat from climate change.
Ukraine's delegation referred more directly to the conflict, pointing out that it had resulted in destruction of civil aviation infrastructure, including airports, runways, and the sole Antonov An-225 outsize freighter.
It also recalled the loss of Malaysia Airlines flight MH17, shot down by a surface-to-air missile in 2014. The delegation described the actions as "disrespect" to the Chicago Convention and established ICAO rules on civil aviation.
Russian federal air transport regulator Rosaviatsia believes the vote against Russia's representation on the Council is "political and temporary", adding that the country is recognised worldwide for its contribution to civil aviation development.
Rosaviatsia points out that it remains a full member of ICAO and will continue to work with the organisation.
ICAO's Assembly has decided to re-allocate the vacant Council seat from the first part of the election to a third part, voting for which is due to take place on 4 October. As a result up to 14 candidates could be appointed to the Council under this third election.