Russian state lessor GTLK has reached an agreement with Russian Helicopters to acquire 86 domestically-built Mil Mi-8 rotorcraft.
GTLK says its fleet will be replenished over the course of 2023-25.
All the helicopters will be leased to Russian domestic carriers, it states, although it has not disclosed the details of customers.
"This large new contract with Russian Helicopters will allow GTLK to fill the market with high-quality domestic aircraft," says the lessor's general director Evgeny Ditrikh.
"With the help of our financial instruments, we reduce the cost of leasing for carriers and ultimately we make aviation services more accessible for customers and passengers."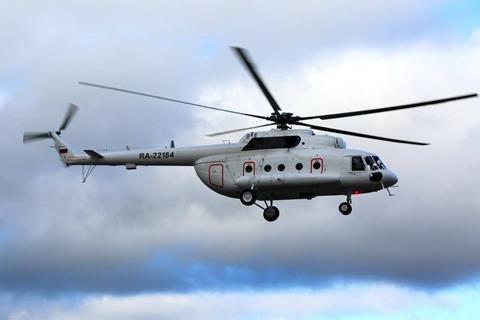 State technology firm Rostec deputy general director Vladimir Artyakov says helicopters are the "most suitable" form of transport for addressing connectivity needs in many parts of the country.
He says over 130 helicopters, mainly Mi-8 variants, have been transferred to GTLK since 2017, and the contracted supply of 26 Mil Mi-8MTV-1s is progressing – a dozen were handed over last year and 14 will be transferred this year.
Rostec says the helicopters in the new agreement will be produced with a "universal" transport configuration.