Russian federal aviation regulator Rosaviatsia has withdrawn 35 aircraft from the operating certificate of diverse operator SKOL, after claims by state leasing firm GTLK that the carrier has failed to keep up payments for its fleet.
SKOL is based in the exclave of Kaliningrad and offers a variety of services including passenger and VIP transport, firefighting and medical evacuation, as well as humanitarian airlift support to the United Nations.
It has 53 aircraft, among them nine fixed-wing types – five Let L-410s, three Cessna 208s and a Yakovlev Yak-40 – plus 44 helicopters, mainly Mil Mi-8s.
Thirty-five of these aircraft, comprising the five L-410s and 30 helicopters, were leased to SKOL through GTLK over the course of 2017-19, the lessor says.
But GTLK accuses SKOL of "ceasing to properly fulfil its obligations" under lease agreements since 2018 and, having taken legal action to recover debts, notified the carrier in June this year that it was cancelling the leases and repossessing the affected aircraft.
GTLK claims SKOL has "ignored" the order to return the aircraft voluntarily and the lessor has started the process of seizing them from SKOL's fleet – beginning with an Mi-8MTV (RA-22636) at Perm – in order to find other customers.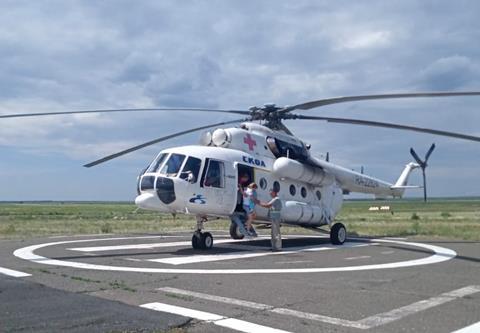 The seizure is a sensitive issue because this helicopter, and other aircraft in the SKOL fleet, are used for air ambulance and medical services. GTLK says it has informed Russia's health ministry and Perm medical associations that the helicopter will no longer be available.
Rosaviatsia has backed GTLK's actions, excluding the 35 aircraft from SKOL's air operator's certificate and permitting it only to use the remaining 18.
The authority says the restriction is in line with aviation regulations and based on GTLK's notification of legal lease termination, after the lessor explored various options with the carrier for settling its debts.
Despite meetings with the regulator and ministry of transport aimed at resolving the dispute, SKOL "did not take any steps" to repay the overdue sums, adds Rosaviatsia.
"The situation should not adversely affect personnel of the airline SKOL," it says, stating that SKOL has over 360 employees including about 240 cockpit and cabin crew. "Employees will be given the opportunity to work at other carriers on their request."
Rosaviatsia also cites health ministry accusations that SKOL engaged in setting "unreasonably low prices" during competitive bidding for medical aviation work, and that this led to "multiple violations" during implementation of government contracts.
FlightGlobal has contacted SKOL for comment on the GTLK and Rosaviatsia claims.
Rosaviatsia says it is co-operating with the health ministry to transfer medical aviation operations in 14 regions of the country to other carriers. GTLK, it adds has drawn up a schedule to move the SKOL aircraft to these operators.
GTLK says the SKOL debt exceeded Rb3.3 billion ($45 million) as of 3 June. It adds that it was forced to apply to courts to declare the carrier bankrupt, and argues that SKOL's "opposition" to the voluntary return of aircraft "undermines" medical aviation work in the country.