Russian prime minister Mikhail Mishustin claims demand for the new UZGA TVRS-44 Ladoga regional turboprop stands at some 550 aircraft.
Mishustin gave the figure during a visit to the Smolensk aviation plant SmAZ, which manufactures light aircraft and which is set to supply wing-boxes for the Ladoga.
The 44-seat aircraft is intended to replace such types as the Yakovlev Yak-40, Antonov An-24 and An-26, as well as foreign models including the ATR 42 and De Havilland Dash 8s.
Prototype construction is underway and delivery of engines for the first flight-test aircraft is scheduled for the end of this year.
First flight, as a result, should take place in spring 2024 with initial customer deliveries beginning in 2025.
UZGA is establishing production facilities in Aramil, just outside Ekaterinburg, which from 2026 will manufacture 25 Ladogas per year – with a potential hike to 50 depending on demand.
Commitments have been placed for some 50 aircraft by carriers including KrasAvia, Angara Airlines, Aeroservis, Komiaviatrans, and Vologda Aviation Enterprise.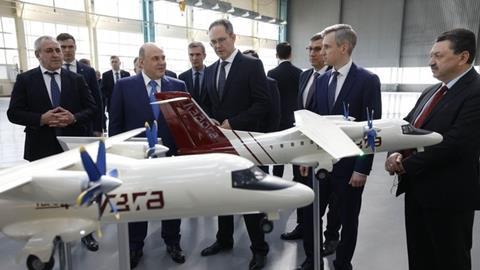 Speaking during the Smolensk visit, Mishustin said the Ladoga would be "in great demand" with a projected market for 550 aircraft, even before accounting for overseas customers. The Ladoga line will also potentially feature a freight variant with a cargo door and rear ramp.
"Connectivity of the territory…can only happen when we fully provide the country with modern aircraft," he stated.
Mishustin said the Ladoga would contribute to an aviation industry programme covering over 1,000 aircraft produced in Russia – among them the Irkut MC-21 and SSJ-New, as well as the latest Ilyushin Il-96 variant and UZGA LMS-901 utility aircraft.
He acknowledged the "very important" need to produce domestically-developed industrial software over the next few years, and also assured a senior SmAZ executive – who told him that the aviation industry had a "big problem with qualified personnel" – that the government was creating competence centres to support the need for training and education.