Russian operator SKOL is protesting that moves to seize its leased fleet risks the health of individuals in need of medical evacuation, particularly in the current pandemic crisis.
SKOL has turned the Russian ministry of transport for assistance following federal aviation regulator Rosaviatsia's decision to remove 35 aircraft and helicopters from the carrier's air operator's certificate, amid a dispute over payments to lessor GTLK.
Cancellation of the aircraft, says SKOL, "endangers the life and health" of citizens requiring transport – particularly from remote regions – to medical institutions.
SKOL says it is "looking for aircraft on the free market" to fulfil capacity needs and exploring the use of contractors to carry out aviation work.
GTLK started actions to seize the leased aircraft – including Let L-410s, Mil Mi-8s and other types – after losing patience in a long-running dispute over debt obligations.
SKOL says it "regrets" the decision by Rosaviatsia to impose restrictions on its fleet which have "made it impossible" since 23 June to conduct medical flights in 14 regions of Russia.
"Applications for emergency evacuation of patients continue to arrive within the framework of existing contracts," it adds.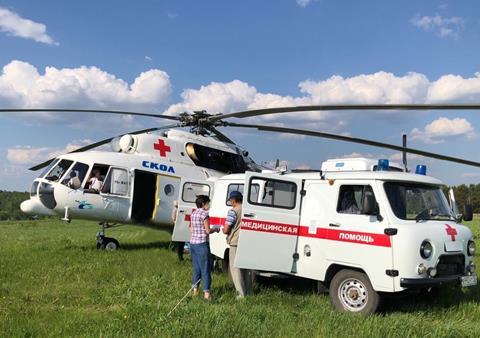 SKOL insists it is "making every effort" to meet its obligations under these contracts in order to provide medical care.
These efforts include appealing to transport minister Vitaly Saveliev, the former head of Aeroflot, to cancel Rosaviatsia's restrictions until the dispute with GTLK can be resolved through the courts.
SKOL is also firmly rejecting Rosaviatsia's claims that the operator engaged in artificial price-reduction practices during contract competitions.
"The airline is not listed in the register of unscrupulous suppliers," it points out.
SKOL has expressed concern that the ministry of health might be turning to slower ground ambulances as a contingency measure, arguing that regions will be left without medical aviation support for an indefinite period, "undermining" a Russian national strategy on developing medical air transport.