South African Airways' maintenance arm, SAA Technical, has started reinstating its services after suspending them to four customers over outstanding payments.
It says it has reached an agreement with two of these customers – SAA itself and sister carrier Mango – but is still holding talks with the other two.
SAA Technical chief executive Adam Voss says the company is seeking "resolution and settlement" on the issue.
"The decision we took to suspend services to our customers was not taken lightly," he adds.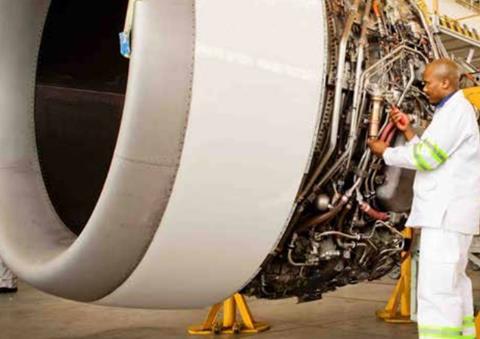 Voss points out that the maintenance firm's staff had been "adversely impacted" by cash-flow problems, and paid only 25% of their salaries in September, and the company needed to protect its commercial interests.
Suspension of aircraft services to SAA was lifted on 30 September, after making payments, and that against Mango on 2 October.
The maintenance firm says it is discussing with unions the balance of payments for workers' September salaries.
"We know that many of our customers were not able to trade and generate much-needed revenue to pay for services rendered," says Voss.
But he adds that customers will have to provide "upfront payment" for SAA Technical work.
"Discussions are ongoing with all affected customers to find solutions on how to address the legacy issues that resulted in the suspension of the maintenance services," the company states.