Saudi Arabian resort developer Red Sea Global has created a subsidiary airline which is using seaplanes to operate services to its island leisure destinations.
The airline, Fly Red Sea, has newly commenced operations with an initial fleet of four Cessna Caravan 208s.
Each aircraft is configured with "boutique, luxury interiors" with accommodation for six passengers taking resort transfer flights or nine passengers on sightseeing tours, says Red Sea Global.
It expects the fleet will expand to nine aircraft by 2028, as its resort projects progress, and more than 20 by 2030.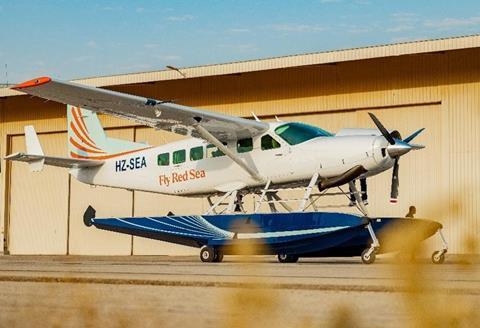 "Our goal was to create a company that would allow us to maintain high standards across every guest touchpoint," says Red Sea Global group chief John Pagano.
He adds that the company aims to reduce aviation's carbon footprint and offer careers to Saudi citizens. "Fly Red Sea achieves this on every level," he says.
The seaplane fleet will be operated from the outset with sustainable aviation fuel, and Red Sea Global says it is looking into the possibility of using full-electric seaplanes.
It is co-operating with propulsion specialist ZeroAvia to explore retrofitting of Caravans with hydrogen-electric engine technology.
Red Sea Global has also developed Red Sea international airport for the resort area, to which flag-carrier Saudia recently began flying. The airport has a dedicated seaplane runway and a seaplane terminal is planned.