Amsterdam Schiphol's air traffic control service has introduced a time-based spacing tool for arriving aircraft, intended to improve runway efficiency in various weather conditions.
Air navigation service LVNL implemented the approach system on 26 January, following a three-year development programme conducted in co-operation with UK counterpart NATS and technology firm Leidos.
The tool – known as 'Intelligent Approach' – is designed to support sequencing of aircraft in the arrival stream, particularly during weather conditions involving strong headwinds.
Headwinds interfere with normal fixed-distance sequencing, reducing landing rates and leading to delays.
The tool employs dynamic calculation of optimum time intervals between arriving aircraft based on the aircraft type and live weather data. Air traffic controllers are able to view this information on their display screens.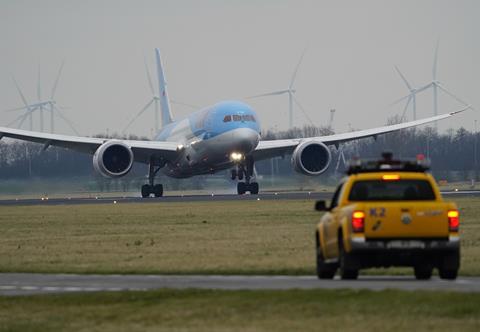 LVNL director of operations Jose Daenen says the tool will contribute to improving runway capacity utilisation, cutting delays and emissions.
"It also enables us to maximise the use of noise-abatement preferential runways," he adds.
The tool has already been introduced at London Heathrow and, last year, Toronto Pearson.
NATS says the Heathrow implementation, which took place in 2015, has cut headwind-related delays by more than 60%.
It adds that it is working with Leidos UK to develop a version of the tool specifically aimed at increasing the efficiency of mixed-mode airports.