Airbus A321 freighter conversion developer Sine Draco is formally seeking US FAA approval for the modification, and has recruited Sierra Nevada Corporation support arm 3S to assist with the regulatory compliance process.
Sine Draco will be the owner of the supplemental type certificate for the converted aircraft, designated the A321-200SDF. But it has contracted 3S to co-ordinate compliance activity for the certificate with the FAA.
Under the Sine Draco programme, one of several freighter conversion initiatives which have emerged for the A321, the aircraft will be fitted with a main-deck cargo door – measuring 142in by 86in – on the left side as well as a Class E cargo compartment. It will retain the forward left-hand exit for crew access.
The configuration will include 14 main-deck ULD container positoins and support 10 containers in the lower hold.
Through 3S it has informed the FAA that it is engaged in development of the modification, and that it is seeking approval to allow additional crew carriage and access to the cargo compartment in flight.
But it wants exemptions to certain requirements, such as installation of handholds, because it expects occupants' movements to be limited.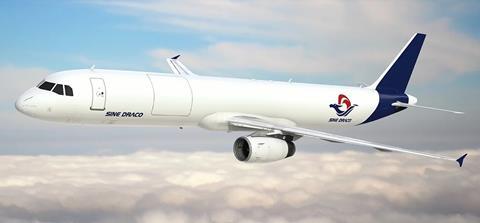 No additional supernumerary seats are being installed as part of the modification. But some configurations of the A321 have jump-seats or attendant seats, and the 3S request seeks conditional access to the cargo compartment for up to three people during flight.
"Use of these seats by cargo operator support personal may be needed for the safe handling of cargo during loading and offloading of a cargo flight," it states in its communication to the FAA.
"Support personnel are especially important if the airplane is carrying perishable goods, hazardous materials or live animals."
Sine Draco acquired an A321 about a year ago – the International Aero Engines V25000-powered airframe MSN963, originally delivered to All Nippon Airways in 1999 – to serve as the prototype for supplemental type certificate development.
It subsequently selected Tucson-based Ascent Aviation Services to undertake modification and completion of the aircraft.
Sine Draco anticipates approval of the supplemental type certificate for the A321-200SDF late in the first quarter of 2022.