New images of the conflict damage at Kyiv's Gostomel airfield confirm that the sole operational Antonov An-225 has been destroyed while parked in a hangar on the site.
While the status of the iconic six-engined freighter had remained unclear for several days after conflict erupted in Ukraine, images had emerged of the hangar apparently on fire.
Antonov had stated that, until the aircraft had been inspected, it was unable to report on its "technical condition".
But it has since shown video footage of the aircraft smoking and subsequent images from a Russian television report at Gostomel clearly show the An-225's forward fuselage, cockpit and right wing structure have suffered irreparable damage.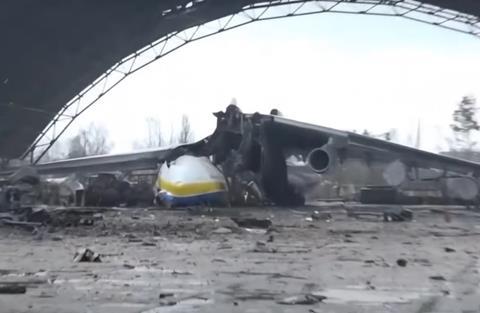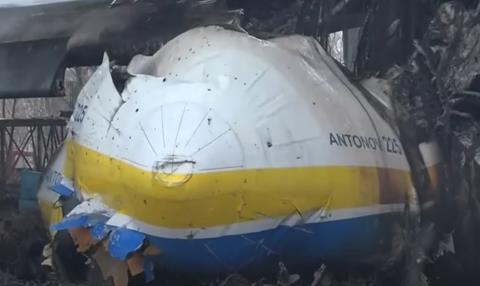 "The dream will never die," says Antonov, a reference to the Ukrainian name 'Mriya' for the An-225, meaning 'dream' or 'vision'.
Registered UR-82060, the record-setting aircraft was unique. While a second example had once been under construction, little work had progressed beyond fuselage assembly.
The An-225 was developed from the four-engined An-124, with a longer fuselage, a greater wingspan to accommodate the extra pair of Ivchenko-Progress D-18 turbofans, and a characteristic modified tail with twin vertical fins.
This twin-tail configuration provided stability and rudder authority for 'piggy-back' transport operations – the aircraft was designed for carrying outsize loads including the Soviet Union's Buran space shuttle.
The aircraft has remained popular with aircraft enthusiasts, appearing occasionally at air shows, but eventually finding a long-term role as a freighter operated by Antonov Airlines for special high-capacity services.
These had notably included medical relief flights to carry hospital and protective equipment in response to the Covid-19 pandemic.