Researchers have analysed low-speed behaviour of a proposed successor to the Antonov An-124 heavy freighter, and are set to assess its aerodynamics in cruise.
The proposed aircraft, dubbed 'Slon', would be powered by Aviadvigatel PD-35 engines, and have a payload capability of 180t and a range of 3,800nm.
Using a model of the freighter, Moscow's Central Aerohydrodynamic Institute has been conducting a second stage of windtunnel tests to examine its low-speed stability and performance at different attitudes, as well as determine the effectiveness of its elevators and other control surfaces.
"Results obtained confirm the declared design characteristics," says transport aircraft junior aerodynamics researcher Alexander Krutov.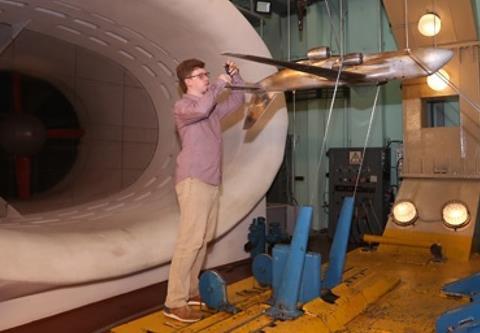 This year the analysis will progress towards visualisation of airflow around the model in cruise flight.
The institute says this will enable the researchers to identify "areas of possible optimisation".
Based on the findings the effort will extend next year to improving the aerodynamics of the aircraft and developing the flap and slat mechanism.
Design of a successor to the An-124 is part of a Russian trade and industry ministry projects under a contract known as Transport Technologies 2021.