Russia's United Aircraft has carried out the maiden flight of its Ilyushin Il-96-400M, a stretched and modernised version of the four-engined airliner.
The Il-96-400M – rolled out in the aerospace firm's corporate livery earlier this year – took off from Voronezh on 1 November for a 26min sortie.
United Aircraft says the flight was conducted to test stability and control of the jet, and the operability of powerplants and landing systems.
"The test programme was successful," says the company, pointing out that much of the equipment for the aircraft has been supplied by domestic firms.
Five crew members were on board the -400M including two pilots, a navigator, engineer and test specialist.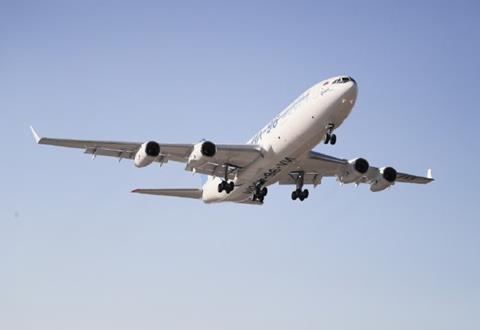 United Aircraft says the jet, fitted with Aviadvigatel PS-90A1 engines, reached altitudes of 2,000m (6,600ft) and speeds of 210kt.
Russian trade and industry minister Denis Manturov says the aircraft retains the "high performance" of its Il-96-300 predecessor but features additional capabilities.
"In the future, the new [Il-96-400M] will allow us to develop and improve our competencies in creating widebody long-haul aircraft," he adds.
The modernised jet has a fuselage stretched by 9.35m over the -300 and is able to accommodate up to 370 passengers, according to United Aircraft, although the company's specifications list the -400M's length as 63.9m, around 8.6m longer than the -300.
New equipment fitted includes updated navigation and radio communications systems. "An improved navigation system will increase flight safety and simplify the landing approach process for crews," says the manufacturer.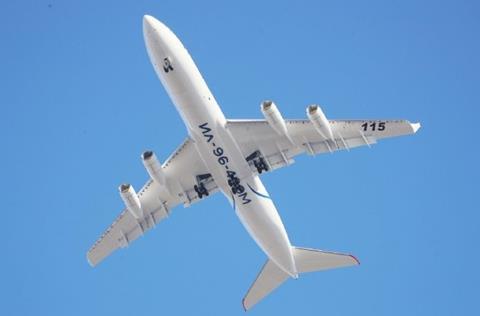 It says the development will comply with the latest European requirements for navigation capability, particularly for operation over remote areas.
United Aircraft general director Yuri Slyusar says the -400M will give the company a long-haul widebody product to complement its current aircraft line-up, including the Yakovlev SJ-100 and MC-21-310, as well as the revived Tupolev Tu-214.
Slyusar says the aircraft types are capable of replacing foreign-built models on networks throughout Russia. The Russian government has adopted a strategic programme of import-substitution, to enhance domestic aerospace production and rely less on foreign suppliers – a particularly key issue following the imposition of international sanctions over the Ukrainian conflict.
United Aircraft says the passenger cabin can be configured in various classes and includes a modern galleys and an in-flight entertainment system able to provide access to Internet and satellite communications.