Airbus has secured approval for its decarbonisation roadmap which includes a 46% reduction, by 2035, of emissions intensity generated by its in-service commercial aircraft.
The airframer submitted near-term science-based targets for emissions in their entirety which, it says, have newly been assessed and validated by the Science Based Targets initiative – a partnership between several global organisations, among them the United Nations Global Compact and World Resources Institute.
Airbus's trajectory takes its commitment to the middle of the next decade, the point at which it aims to start introducing hydrogen-fuelled zero-emissions aircraft.
Speaking during the airframer's full-year briefing on 16 February, chief executive Guillaume Faury pointed out that this timing means reaching the 46% reduction cannot depend on the hydrogen shift.
"It has to rely on technologies which are on the cards today, not the big transition that will happen in the second half of the next decade with the new generation of [aircraft], the successors of what we have today," he says.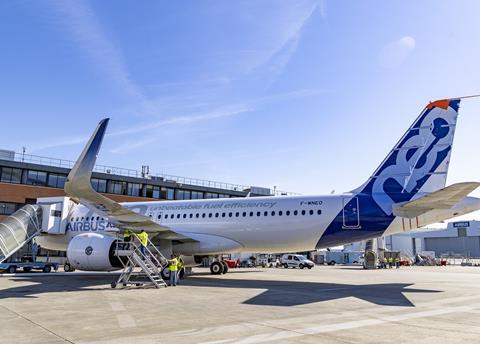 He says there will be "incremental improvement" of products but adds that the trajectory "has to rely a lot" on the ramp-up of sustainable aviation fuel use.
"That's why we're insisting so much, and spending so much time with partners all around the world, especially energy partners, regulators and airlines, to make sure this ramp-up of [sustainable fuel] will happen," he adds.
As part of its emission-reduction commitment, Airbus is also intending to cut industrial emission in its industrial operation by up to 63% before 2030.
These measures are designated 'Scope 1' and 'Scope 2', referring to direct and indirect emissions, while those from in-service use of the company's aircraft are classified as 'Scope 3'.
All the reduction targets are compared with a 2015 baseline.
"Independent assessment and validation of SBTi demonstrates our willingness to define meaningful climate targets aligned with science," says Faury.
"We are determined to achieve these targets and invest in the solutions that will help decarbonise our industry and ensure aviation can continue to play its precious role in society."