Swedish carrier Braathens Regional Airlines has filed for protection in order to undergo a restructuring exercise.
It has suspended all services with effect from 6 April with the intention of gradually resuming flights "after the summer", it says, when conditions are expected to have improved.
BRA says the decision will give it time to put together a controlled plan for its future operations.
The company had previously stated, in mid-March, that it was cutting back services to a minimum level and laying off all personnel.
It subsequently disclosed that it would halt all flights until 31 May.
But the company says it has "done everything in its power" to adapt, and is resorting to corporate protection and restructuring measures as a result of the "acute" crisis caused by the coronavirus outbreak.
"After careful consideration, the company's board of directors has chosen to apply for restructuring and to freeze the business completely," says BRA chief executive Geir Stormorken.
"This will give us room to develop a long-term sustainable business plan."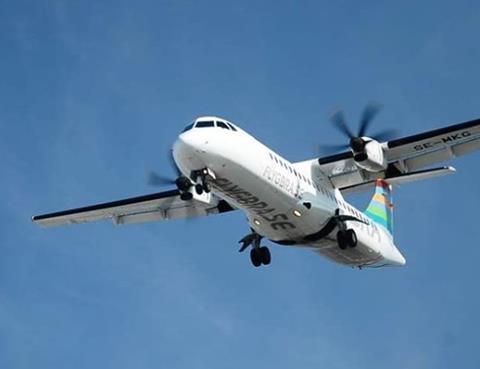 BRA says Swedish operators have been trying to "persuade" the government to develop cost-reduction measures for the industry but that this has so far "not yielded results".
The airline has been reshaping its operation including phasing out BAE Systems Avro RJs, axing an order for Airbus A220s, and turning to ATR turboprops instead.
BRA says the current situation is "beyond our control". It will review its corporate structure and explore opportunities for further efficiency measures to improve its position ahead of restarting services.
"We will do our utmost to compensate customers for [the disruption] when we re-open the business," says commercial manager Ulrika Matsgard. BRA employs some 600 staff and is holding talks with unions.