United Aircraft is set to begin mating of the tail and engine pylons for the first Ilyushin Il-96-400M, which is undergoing assembly at the Voronezh-based VASO plant.
The aircraft is a longer, modernised variant of the Il-96-300 incorporating a 9.35m (30.7ft) stretch of the fuselage.
United Aircraft says the programme is on schedule, adding: "The aircraft will retain the high reliability indicators of its predecessor."
Work has continued on the aircraft despite the global depletion of air traffic which has, in turn, resulted in a cull of four-engined airliners including the Airbus A380, A340 and Boeing 747.
The Il-96-400M will have a length of 64.7m but the same 60.1m span of the -300.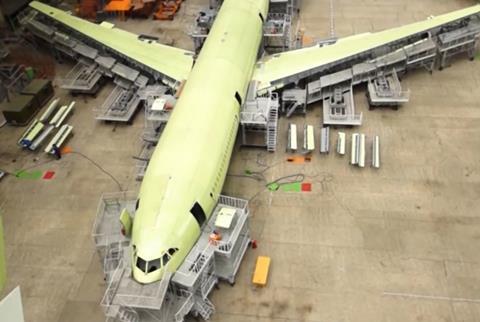 It will feature, however, the Aviadvigatel PS-90A1 powerplant, each with 38,360lb (170.6kN) thrust, compared with the 35,270lb of the PS-90A.
The maximum take-off weight will be 20t higher, at 270t, than its predecessor's and its maximum payload will be 58t compared with 40t for the -300.
Wing mating to the fuselage of the first flight-test aircraft has been completed, says United Aircraft. The fitting of the tail and pylons will take place during the next stage.
"Installation of the main aircraft systems has commenced on board," it adds.
VASO acting managing director Alexander Yarchevsky says work on the Il-96-400M is scheduled for completion this year, along with transfer of the jet to the flight-test station.
United Aircraft states that the aircraft will feature modern domestically-produced flight-control, navigation and communications systems. Its interior will typically feature single-, dual- or three-class layouts of 402, 350 or 305 seats.