Afghanistan's Taliban-run government is urging airlines to restore services to the Central Asian state, insisting that the main international airport at Kabul is open.
Foreign ministry spokesman Abdul Qahar Balkhi, through his official social media feed, states that the airport is "fully operational for domestic and international flights", and problems at the facility "have been resolved".
He says the political upheaval has "caused a series of technical issues" and the suspension of international flights has left many Afghan citizens "unable to return to their homeland".
"The [Islamic Emirate of Afghanistan] assures all airlines of its full co-operation and expects all airlines and countries that had previously flown to Kabul to resume their flights as before," he adds.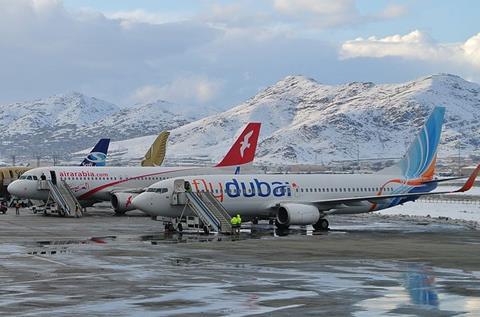 But ICAO's contingency co-ordination team, during its latest update on the Afghanistan airspace situation on 22 September, stated that there was still no en route air traffic service, while only some approach and tower services were available.
According to ICAO the Afghan civil aviation authority has taken control of Kabul airport and its area control centre, and will inform the organisation as to operational status.
Qatari authorities have stationed technical personnel in Kabul who are assessing current capabilities – including air traffic control, communications, navigation, surveillance and aeronautical information – and the plans for service resumption.
There is evidence of a partial resumption of domestic and military flights in Afghanistan, with several services having been flying the short transit airway P500 between Pakistan and Tajikistan.
ICAO says a NOTAM office has started functioning but, while several NOTAMs have been published since early September, the distribution – whether by Afghan or Pakistani authorities – is "not certain", while some information is "inconsistent or missing" and there is insufficient content on contingency operations.
Other NOTAM issues include "unclear" or "duplicated" information, it adds: "All stakeholders are urged to check all available sources to verify NOTAM information until further notice."