Leisure company TUI Group has completed its €1.8 billion ($1.97 billion) capital increase, with nearly 91% of subscription rights exercised by shareholders.
The company – which operates several holiday carriers – says the remaining unsubscribed shares were "fully sold to qualified investors" through a private placement.
Entities connected with key shareholder Alexey Mordashov, who indirectly held nearly 31% of the company, were prevent from participating owing to European sanctions imposed on Russian businesses and individuals over the Ukrainian conflict.
TUI disclosed in March that it would embark on the capital raise in order to repay fully the German financial support granted during the pandemic, as well as cutting back the credit line provided by KfW bank.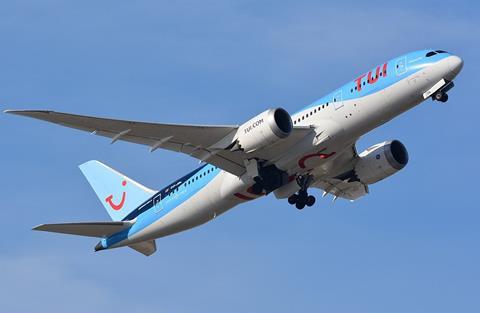 The company says that, as a result of the process, its nominal share capital rises by about €329 million to a level of around €507 million.
"We are reducing our debt and interest costs. TUI will have a good balance sheet structure," says chief executive Sebastian Ebel. "Now we focus on profitable growth and improved profitability."
TUI offered eligible shareholders the chance to subscribe to eight new shares for every three existing ones, at a price of €5.55.