European cargo drone operator Dronamics is claiming to be the first such carrier to have been granted IATA and ICAO designator codes, as it prepares to embark on commercial services.
Dronamics has been allocated the 'OY' designator by IATA and 'DXE' by ICAO, along with the callsign 'Black Swan'.
The company says this gives its operations recognition "on par" with international airlines.
Dronamics obtained a European Union light UAS operator certificate last year, through the Maltese civil aviation regulator, enabling it to authorise operations with its own aircraft.
The company has recently conducted the maiden flight of its Black Swan aircraft, which became airborne from Balchik airport, near Varna on the Black Sea coast of Bulgaria.
This aircraft was remotely flown by two commercial pilots from the company's ground station. The flight's duration was about 10min and the aircraft travelled 11.6nm, reaching altitudes up to 2,000ft and achieving an average speed of 75kt.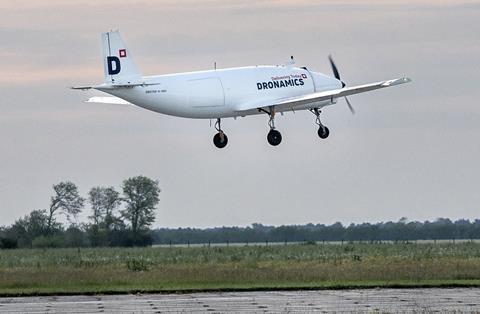 Black Swan, which is 8m in length with a 16m span, has a payload capability of 350kg. Its developer says it will have a range of 1,350nm and will be able to reach 108kt.
Dronamics says the flight validates its technology for deployment on commercial cargo services within Europe, which it intends to commence later this year.
"This recognition by [IATA and ICAO] reinforces our position on the international aviation map," says chief executive Svilen Rangelov.
The company states that it has also been assigned a formal airline accounting prefix, enabling it to issue air waybills.
Dronamics aims to focus initially on the Mediterranean region, before expanding to Western Europe and then Central and Eastern Europe.