UK air navigation service NATS is working to restore normal operations after imposing traffic-flow restrictions, following a serious technical problem which affected the automatic processing of flightplans.
Eurocontrol's network operations centre states that the UK experienced a flight-data processing system "failure".
Both the London and Scottish flight information regions are being regulated at "low rates with very high individual delays", it adds.
NATS says it has "identified and remedied" the issue.
"We are now working closely with airlines and airports to manage the flights affected as efficiently as possible," it states. "Our engineers will be carefully monitoring the system's performance as we return to normal operations."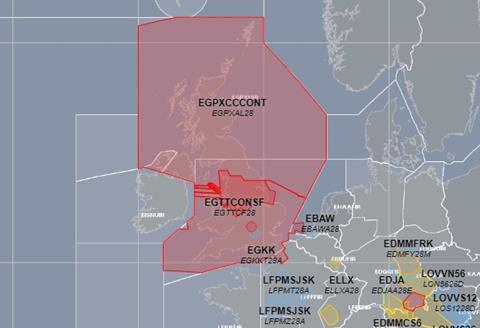 While UK airspace remained open, the 28 August issue forced controllers to revert to manual processing of flightplans, which could not be carried out at the normal volume.
The need to ensure flight safety led the air navigation service to implement restrictions on traffic flow, which resulted in substantial disruption to flights on a day designated a UK public holiday.
"Our priority is ensuring every flight in the UK remains safe and doing everything we can to minimise the impact," NATS says.
British Airways has warned travellers that its flights are being "severely disrupted" and that it has had to make "significant changes" to its schedule, and that a number of short-haul services "may no longer be operating".
Budget airlines Ryanair and EasyJet are also offering customers on cancelled services the option to obtain a refund or change flights for free.