UK transport secretary Grant Shapps's office has given crucial government approval for re-opening and developing Manston airport – located some 100km east of London – as an air freight facility.
The development consent order for the project was granted on 9 July.
Under the proposal, put forward by RiverOak Strategic Partners, Manston will be turned into a dedicated freight airport, capable of handling at least 10,000 air cargo movements annually.
It will also be able to offer a number of passenger and executive aviation operations, as well as aircraft engineering services.
Some of the infrastructure from the old airport, decommissioned in 2014, would be revived. Runway 10/28 will be refurbished and upgraded and a parallel taxiway will be re-aligned.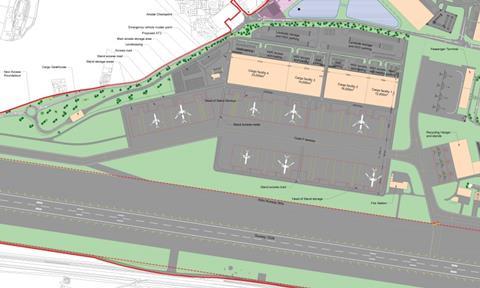 Nineteen stands will be constructed for aircraft typically of the size of Boeing 777 freighters, with the flexibility to handle larger types, and the project includes building a 65,500m² cargo facility and a control tower.
Other infrastructure planned include a fuel farm, maintenance centre, flight-training school, and fixed-base operation for executive travel.
In a communication confirming the consent order, the transport secretary's office says it is "satisfied that there is a clear justification" for authorising the development.
While the decision, for legal reasons, has to be issued in Shapps's name, he has not been personally involved in the process, owing to a conflict of interest prior to his appointment as transport secretary. Minister of state for transport Andrew Stephenson took over the decision process.
Law firm BDB Pitmans, which has been acting on RiverOak Strategic Partners' behalf, states that the development consent order – achieved a day earlier than the deadline – is the first to be granted for an airport.
RiverOak says the construction will commence in 2021 and the first cargo services at Manston will operate from the first quarter of 2023.
It adds that the coronavirus crisis has "demonstrated the fragility and inflexibility" of the UK's air cargo network, pointing out that passenger aircraft have had to be recruited and converted to transport vital freight.
"Once built, Manston will be one of the most modern, efficient and environmentally friendly freight hubs in the world," says RiverOak director Tony Freudmann. The company has committed to £300 million investment to rebuild the airport, and provide dedicated air freight capacity in the vicinity of the UK capital.