Belarusian president Alexander Lukashenko and other officials are facing further sanctions from the UK government, including a prohibition on servicing corporate aircraft used by the state.
The aviation-related sanctions involve banning Belarusian carriers from overflying or landing in UK territory.
But they also include measures against eight individuals, including Lukashenko and his son, Viktor, ministers, military figures and the president's press secretary – plus a high-profile Russian investor in Belarusian interests.
The UK government states that these eight people would "benefit" from technical support of several Belarusian- and Aruba-registered aircraft, among them a Boeing 767-300ER (EW-001PB) and a Boeing BBJ2 business jet (EW-001PA), based on the 737-800.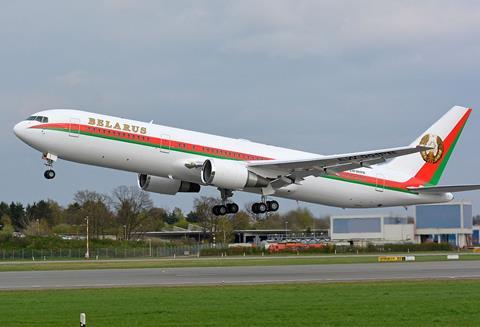 Its technical sanctions list also features three executive jets – a Bombardier Global Express, Embraer Legacy, and Gulfstream G550 – plus two Mil Mi-8 helicopters and a Leonardo AW139.
UK foreign secretary Dominic Raab says the ban is part of a broader set of financial and trade measures which follow a "fraudulent" election last year and the diversion in May of a Lithuanian-bound Ryanair Boeing 737-800 service to Minsk which subsequently resulted in two passengers being detained – an incident which remains under investigation.
"The products of Lukashenko's state-owned industries will not be sold in the UK, and our aerospace companies will not touch his fleet of luxury aircraft," says Raab.
Lukashenko gave defiant speech during a 9 August media conference in Minsk, during which he claimed Belarus was open to an international investigation into the Ryanair incident.
"Why didn't you come to investigate?" he said. "Facts on the table, hands on the table. Come and prove that Lukashenko landed this aircraft."
He insisted there was no repression in Belarus, because it would be against his own interests, while stating that the protests in the country which followed the election were "not peaceful".
Lukashenko told the audience that Belarus was the "focus of attention of the whole world", adding: "I will only note that it's not of my own free will."