Ukrainian prosecutors are pursuing a case of alleged official negligence over the destruction of the Antonov An-225 heavy transport during combat at Kyiv's Gostomel airport.
The accusation against the former Antonov general director follows an investigation which found that the An-225 was "not transported from the danger zone", says the general prosecutor's office.
Gostomel came under heavy assault, including shelling, in the early days of the Ukrainian-Russian conflict which broke out in February last year.
The prosecutor's office says that the director "improperly performed" official duty to ensure "preservation of property" during the three weeks from 30 January to 24 February.
As a result of the military action the An-225 – the sole example of the six-engined freighter – was destroyed, and the office says the damages to the state amounted to nearly Hr8.5 billion ($230 million).
Ukrainian state security service SBU says the head of Antonov needed to "organise the timely evacuation of the aircraft".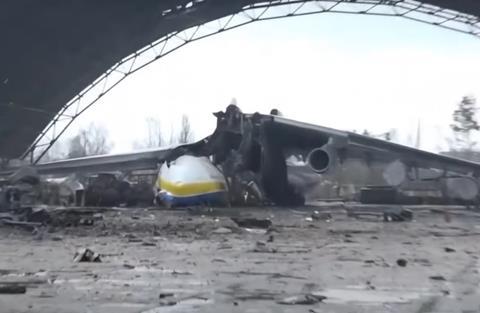 "To ensure protection of the aircraft, it had to be transported to the airport in the German city of Leipzig," it adds.
"According to the investigation, on the eve of the [Russian] invasion, the An-225 was in proper technical condition, which allowed it to fly outside of Ukraine."
But the failure to arrange the flight out of Gostomel led to the destruction of the jet, the SBU alleges. It adds that a "timely" extension of aircraft insurance was not ensured, leading to the loss of more than Hr42 million in compensation payments.
During the investigation, initiated last year, the SBU determined that officials denied access to Gostomel to Ukrainian national guard personnel who were tasked with preparing airport defences and fortifications.
SBU head Vasyl Malyuk, in March this year, stated that the organisation was conducting an "objective investigation", adding that anyone who assisted adversaries to destroy "one of the symbols of Ukraine" should be punished.
The An-225, registered UR-82060, was developed from the four-engined An-124, with a longer fuselage, a greater wingspan to accommodate the extra pair of Ivchenko-Progress D-18 turbofans, and a modified tail with twin vertical fins.
This twin-tail configuration provided stability and rudder authority for 'piggy-back' transport operations – the aircraft was designed for carrying outsize loads including the Soviet Union's Buran space shuttle.