United Aircraft has signed formal contracts to deliver 63 aircraft to Russian operator Aeroflot Group by the end of 2025.
Aeroflot Group is to take 18 Irkut MC-21s plus 34 SSJ-New aircraft, as well as 11 Tupolev Tu-214s.
United Aircraft has also reached agreement to supply eight SSJ-New twinjets to the eastern operator Aurora over the course of 2024-26.
Russian prime minister Mikhail Mishustin disclosed during a high-level meeting on 16 February that the government was proceeding with completion of investments to upgrade air transport fleets.
"We will increase the serial production volume of new-generation domestic equipment and, accordingly, reduce dependence on foreign models," he said.
Mishustin stated that the government would allocate over Rb237 billion ($3.1 billion) to aviation industry projects this year.
Russian president Vladimir Putin had recently expressed displeasure over the status of aircraft orders, levelling particular criticism at industry minister Denis Manturov.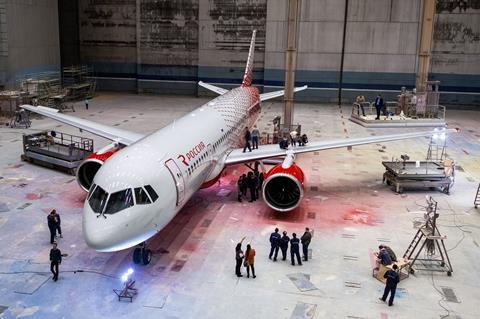 State technology firm Rostec says the 71 twinjet aircraft – as well as a batch of 107 helicopters – would be delivered to operators through leasing companies.
Aeroflot Group will be able to take aircraft on "preferential terms", says Mishustin.
Seventeen Russian airlines will take delivery of 86 Mil Mi-8 helicopters under a newly-agreed contract, while Aurora will receive 21 Mi-171s from 2024, part of its broader fleet modernisation.
"Signing of contracts allows the launch of full-scale production of the necessary equipment," says Rostec chief Sergei Chemzov.
"Relevant measures have already started at United Aircraft, Russian Helicopters, and other participating companies."
Chemezov says a "large-scale task" has been handed to Russia's aviation industry to expand production quickly, and enable the country's carriers to receive domestically-built aircraft instead of Airbus and Boeing jets.