Three Boeing 747-400s formerly part of the fleet of French leisure airline Corsair have been sold to the aviation division of a US-based transport and energy sector investor.
Fortress Transportation & Infrastructure Investors, located in New York, is picking up the 747-400s – identified as bearing serial numbers 26880, 26877 and 26875.
All three aircraft were originally delivered to United Airlines during 1992-93.
The jets are powered by Pratt & Whitney PW4000 engines, and these powerplants have resulted in "considerable interest" in the aircraft, claims Air Partner executive vice-president for remarketing Tony Whitty.
"Although the market is currently more challenging, certain aircraft and engine types are in demand," he says.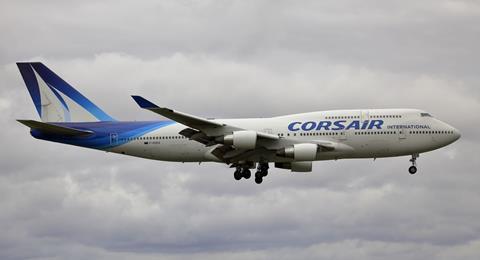 Air Partner, which served as the exclusive remarketing agent for the Corsair 747s, points out that the agreement with Fortress includes two spare engines.
Corsair had parked the three 747-400s as part of a modernisation programme under which it intended to switch to a fleet entirely comprising Airbus A330s, including A330-900s – three of which are on order.