US-based lessor Azorra Aviation is to acquire the leasing firm Voyager Aviation Holdings through a $743.5 million agreement which involves Voyager's filing for US Chapter 11 bankruptcy protection.
Azorra, which has its headquarters in Fort Lauderdale, will acquire substantially all of Voyager's assets.
The Voyager portfolio includes a fleet of Airbus A330s, Boeing 777-300ERs and Airbus A220s, and Azorra – which has focused on single-aisle and regional jets – is taking the strategic opportunity to expand into the widebody sector.
Voyager has been under substantial financial pressure, stating that it has "weathered nothing short of the 'perfect storm' over the last several years".
These pressures have included the pandemic – which badly affected long-haul operations – and the Ukrainian conflict.
Voyager has been directly affected by the sanctions imposed on Russian operators, with two Boeing 747-8Fs – MSN63695 and MSN63781 – on lease to AirBridgeCargo not having been returned to the lessor.
"The current geopolitical situation with Russia has made it impossible to determine whether the [two 747s] are being properly maintained," states Voyager's chief restructuring officer, Robert Del Genio, in a court filing.
"Even if the [747s] are ever returned, it is expected that they will have suffered physical damage amounting to a total loss."
Voyager says it has sought indemnification for at least $325 million.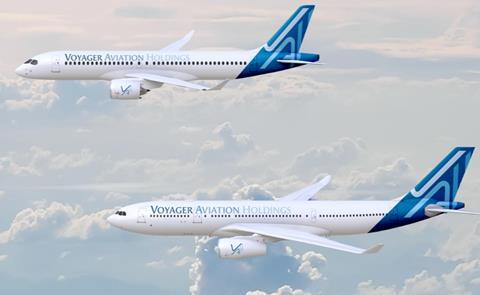 Alongside the pandemic and conflict the lessor had had to cope with high inflation and interest rates, as well as legacy accounting issues – auditors had raised concerns about certain matters during finalisation of the company's 2021 financial statement – and maturities on aircraft financing facilities.
Del Genio says the company's financial position became "precarious". Its largest stakeholders declined to inject fresh capital, and the lessor was also being forced by lenders to sell a number of aircraft.
Its depleting liquidity position led the company to consider finding a buyer for its entire portfolio, and the process resulted in 13 bids in March this year which were then whittled to six in May, before Azorra was selected as the successful party.
The purchase agreement executed on 17 July covers 14 aircraft in the Voyager portfolio, plus the rights to five A220-300s which are being delivered to US carrier Breeze. The $743.5 million purchase price includes assumption of $200 million in purchase commitments connected with the Breeze aircraft.
Del Genio adds that a separate agreement provides for Azorra's participation in the economic interests of the two 747-8Fs in Russia.
"The combined [Azorra-Voyager] platform will benefit from a multitude of advantages, including scale, asset and customer diversification, a strong balance sheet and the melding of two world-class teams," says Voyager.
It states that the voluntary filing for Chapter 11 will help it to carry out an "efficient and value-maximising sale", with the aim of completing it by the first quarter of next year.
Voyager adds that the two lessors have a "shared vision" with a focus on growth and stability, and says the tie-up will enable Voyager to capitalise on the recovering commercial aircraft leasing industry.