Flights between the USA and Mongolia are planned for next year, with the signature of an air transport agreement planned as part of a reinforced partnership between the two countries.
Mongolian prime minister Luvsannamsrain Oyun-Erdene is holding talks with the US government during his first official visit.
"For us, the United States is not only our strategic third neighbour but also the guiding polar star on our democratic journey," he said during a briefing with US vice-president Kamala Harris.
"I hope that history will record my visit this week as the start of a new chapter in our friendship and strategic partnership."
Oyun-Erdene says the two governments will sign an "open skies" agreement, with flights commencing in the second quarter of 2024.
"It's going to be great opportunity to promote tourism and trade, business and investment," he adds.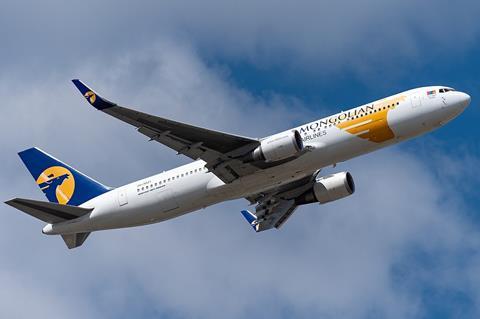 Neither government has elaborated on the planned services.
Mongolian flag carrier MIAT meanwhile confirms that it is leasing a pair of Boeing 787-9s from AerCap, with the first aircraft to arrive this month.
This differs from plans disclosed in 2019, prior to the pandemic disruption, that it would acquire 787-9s through US-based Air Lease.
MIAT also sought authorisation, in February of this year, to operate flights from Ulaanbaatar to San Francisco, stating that it expected to receive two 787-9s, slated for delivery in 2023 and early 2024.
Oyun-Erdene is also set to meet NASA officials to discuss greater co-operation in the space sector.
Economic ties will also be underpinned through the signing of a new economic co-operation roadmap, the Mongolian government adds.
Updated with confirmation from MIAT that 787-9 will arrive this month. Additional reporting by Greg Waldron.