Developers of a new Polish central hub airport have selected a French-Australian partnership as the preferred strategic investor for the facility.
The airport, capable of handling 40 million passengers annually, will be situated between the capital Warsaw and the major city of Lodz.
French airports operator Vinci Group and Australian financial firm IFM Global Infrastructure Fund have been provisionally selected by project organiser Centralny Port Komunikacyjny to invest in the airport's management company CPK Lotnisko.
Sixty percent of the funding for constructing the airport will come from debt financing, probably through bank loans, while the other 40% will be sourced from investors taking a CPK Lotnisko shareholding.
The Polish treasury will retain majority ownership of CPK Lotnisko, with at least a 51% stake, while the strategic investors will hold a minority.
Acquisition of up to 49% of shares will mean attracting around zl8 billion ($1.9 billion) of direct investment in Poland, says Centralny Port Komunikacyjny.
It adds that it has spent several months assessing investor proposals, holding discussions with a wide range of European and Asian candidates, before deciding that the Vinci-IFM bid was the "most favourable".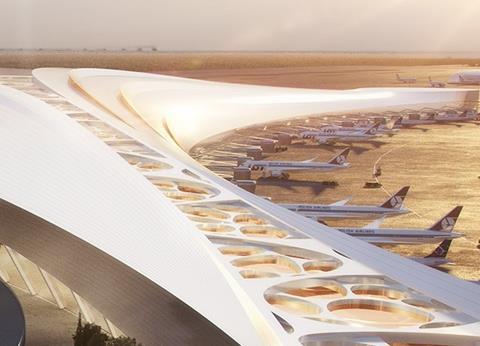 Polish deputy minister for funds and regional policy Marcin Horala insists that the Vinci-IFM proposal is the "best proof" that the new airport project is "well thought-out" and "based on numbers".
He says the airport is "not megalomania", nor is it a threat to the country's regional airports.
"[The new airport] means the creation of a Central European passenger hub while, at the same time, allowing to tap into the gigantic revenues from air cargo – which have so far passed Poland by," he adds.
As part of the strategic investment the French-Australian partners will support the project with financial experience and knowledge of airport operations.
"We have thoroughly verified our partners in terms of experience, competence and credibility in the implementation of the [new airport] strategy," says Centralny Port Komunikacyjny chief Mikolaj Wild.