Russian researchers are planning to test-fly a Yakovlev Yak-40 modified with a superconducting electric motor and propeller mounted on the trijet's nose.
The Moscow-based Central Institute of Aviation Motors expects the first flights to be carried out in 2021.
Siberian aeronautical research centre SibNIA, located in Novosibirsk, installed the electric motor in the aircraft on 18 December, and performed a propeller test run.
Ultimately the motor is intended for application on nine- to 18-seat regional aircraft.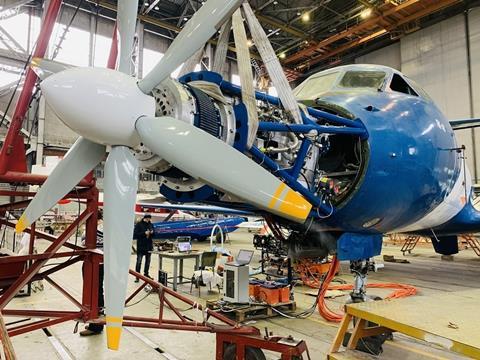 The motor, developed by materials specialist SuperOx and based on high-temperature superconductors, has a 500kW power capability and is part of a hybrid powerplant demonstrator.
"Previously [the motor] as well as other components and systems of this [demonstrator] passed a series of tests on ground stands," says SuperOx.
"Flight testing is the next important stage."
Although flights of the modified Yak-40 are scheduled for next year, it says, the research team "still has a lot of work to do".
"It is necessary to conduct comprehensive checks of the electric motor's operation, in all modes, on a specially-created engine frame," it states. This will enable the developers to check the effect on aircraft systems.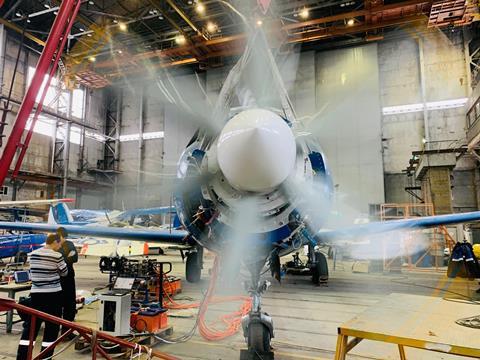 Central Institute for Aviation Motors chief Mikhail Gordin says the superconductor-based powerplant is intended to "solve a number of technological issues air transport is facing".
The institute showed off a scale model of the airborne testbed, and a sample motor, at the MAKS Moscow air show last year.
"We are the first to start testing as part of a flying laboratory," says SuperOx general director Sergei Samoylenkov, adding that the technology allows reduction of weight, noise and fuel consumption.