Alternative-fuel innovation company ZeroAvia is claiming to have achieved the world's first flight of a hydrogen-electric commercial passenger aircraft, with its retrofitted Piper M350.
The aircraft – under previous registration N866LP – had already been used to conduct a commercial-scale battery-electric flight in June.
But ZeroAvia says it also completed a "world first" hydrogen fuel-cell-powered flight on 24 September from the company's UK research facility in Cranfield.
Re-registered as G-HYZA, the six-seat aircraft carried out a taxi, take-off, performed a pattern circuit, and returned to land.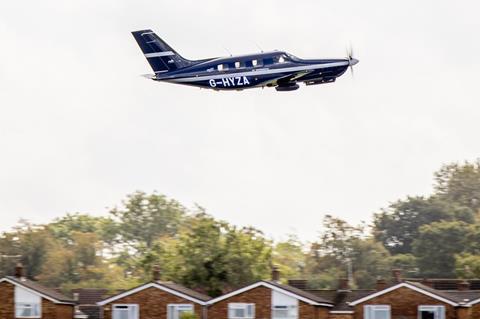 "While some experimental aircraft have flown using hydrogen fuel cells as a power source, the size of this commercially-available aircraft shows that paying passengers could be boarding a truly zero-emission flight very soon," says ZeroAvia chief Val Miftakhov.
It says that the flight means its M350 has become "the largest hydrogen-powered aircraft in the world".
ZeroAvia is intending to advance the six-seat development programme to cover a 250-300nm zero-emissions flight from an airport in Orkney, off the northern Scottish coast, by the end of this year.
The company points out that this equates to the range of city shuttle routes such as London-Edinburgh or Los Angeles-San Francisco.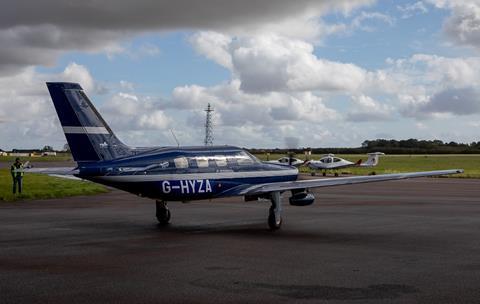 UK government funding, through the Aerospace Technology Institute scheme, has supported the ZeroAvia development.
Newly-appointed UK aviation minister Robert Courts says the sector is a "hotbed of innovation" and that the technology "takes us all one step closer to a sustainable future for air travel".
ZeroAvia and one of its partners, the European Marine Energy Centre, have also developed a "microcosm" of a hydrogen airport refuelling eco-system at Cranfield.
"This also marks another world's first, a fully-operational hydrogen production and refueling airport facility for primary commercial aircraft propulsion," it says.
ZeroAvia is leading a project called HyFlyer aimed at decarbonising small, medium-range passenger aircraft through the replacement of conventional engines in propeller-driven models – demonstrating a phased approach from battery to hydrogen power.