Commercial passenger flights between Rotterdam and London, using a zero-emission 19-seat regional aircraft, are set to take place in 2024 through a newly-unveiled partnership.
Rotterdam The Hague airport is linking with propulsion specialist ZeroAvia to realise the plan, which will involve a hydrogen-powered aircraft under development.
ZeroAvia says the tie-up – which also includes airport operator Royal Schiphol Group and a Rotterdam airport innovation foundation – will establish a "solid timeline" for opening Dutch-UK zero-emission passenger services.
"In just three years' time you should be able to board a flight and make the hour journey between the UK and Netherlands without worrying about the impact on the climate," says ZeroAvia's head of Europe, Sergey Kiselev.
The company says partnership members are in "advanced" discussions with airlines to recruit an operator for the route – adding that the proposed flights could become the first international commercial operation with zero-emission aircraft.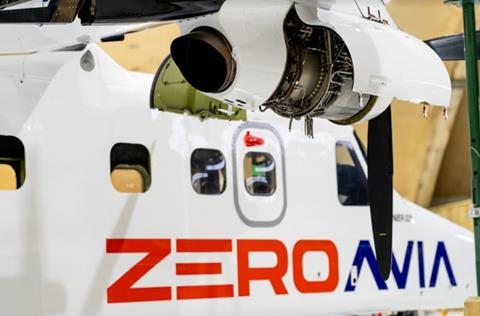 "With the Netherlands as the testing ground for aviation, we strengthen our competitive position, knowledge base and business climate," says Rotterdam The Hague airport chief Ron Louwerse.
He says a Rotterdam-London commercial flight would be "only the beginning" for "green aviation".
ZeroAvia has been converting a Dornier 228 to use its hydrogen-electric powertrain, having previously demonstrated the technology on a smaller scale by flying a six-seat light aircraft.
It says Royal Schiphol Group will collaborate on testing and demonstrating refuelling operations through a hydrogen supply chain, integrating the processes with its airport services.
The collaboration will also look at regulatory matters and explore the "industry and public appetite" for hydrogen-powered flights, says ZeroAvia, which has set up a Dutch legal entity to assist with further European Union partnerships.
"This partnership marks an important milestone," says Rotterdam The Hague Innovation Airport foundation director Miranda Janse, adding that it brings operational expertise of hydrogen-powered flight "into practice in the Netherlands".