All Nippon Airways (ANA) has placed its first orders for the A321neo Airbus Cabin Flex (ACF) version, which it will take as the A321LR extended range variant. The decision is significant as the airline had previously retained its contract for the original A321neo cabin configuration.
The A321LR order has been placed by parent company ANA Holdings through a swap of two existing A320neo orders. The A321LRs will be delivered in FY 2022 and 2023.
ANA was launch operator for the Pratt & Whitney PW1100G-powered A321neo (or A321-200N), taking its first in September 2017. It now operates a fleet of 11 A321neos, all of which are built to the A321 original door configuration, with four cabin doors on each side.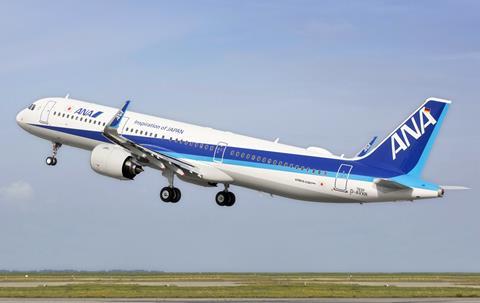 The airline had a further 11 A321neos on backlog prior to the A321LR announcement, according to Cirium fleets data. ANA has continued to take this original A321neo layout to retain fleet commonality, despite the introduction of the improved ACF version in July 2018.
The ACF variant, dubbed "A321-200NX", has three cabin doors per side and up to two over-wing emergency exits, with the option to deactivate some doors/exits, depending on cabin layout. The door options along with cabin changes allow capacity to rise from the original maximum of 220 seats to up to 240. The -200NX is the platform from which the A321LR is derived by way of auxiliary fuel tanks in the cargo hold.
Airbus is currently building a multitude of A321 variants, including the original A321ceo (-200), the A321neo (-200N) and the A321neo ACF (-200NX). This means that Airbus is also still producing three different engine options – the CFM International CFM56 on the A321ceo along with the CFM Leap-1A and Pratt & Whitney PW1100G on all the A321neo versions. Production of all International Aero Engines V2500-powered A320 family versions ended last year, with the last V2500-powered delivery being an A321-200 to Wizz Air in August, according to Cirium data.
This mix of variants, combined with the volume of new "heads of version" (ie each customer cabin specification), has been a key cause of the production delays Airbus has suffered with its largest single-aisle product.
Airbus had 38 A321ceos on backlog by at the beginning of 2020 and should wrap up production of the old variant next year. However, with orders for over 400 of the initial A321neo -200N variant remaining, according to Cirium data, it will need to continue building both door options unless it can convince more customers to switch of the -200NX ACF configuration.
Meanwhile Airbus will begin producing another iteration of A321neo from 2023, the XLR variant. Officially dubbed the A321-200NY but marketed as the A321XLR, this variant combines the existing A321-200NX ACF cabin arrangement with major changes, including to the wing trailing-edge and fuel system.
Additional reporting by Firdaus Hashim/Cirium