Bombardier's chief executive has a relaxed, engaging style. He's optimistic. He leans forward in his chair when he speaks. He smiles as he discusses Bombardier's recent transformation, which he insists will leave the company leaner, more-focused and financially secure.
CEO Eric Martel took Bombardier's top job in March 2020, succeeding former chief Alain Bellemare and arriving as the pandemic cloud descended.
During the last 18 months, he has overseen the final stages of a years-long restructuring that has left the Montreal company focused exclusively on selling and servicing business jets.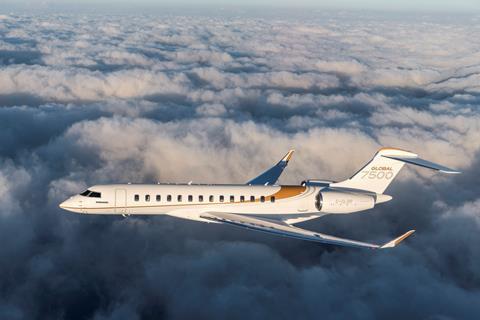 The transformation will be close to complete early next year when Bombardier ends production of Learjets. And though Martel declines to specify where Bombardier might next deploy its impressive engineering heft, he says the company is evaluating several potential new jets.
"We're at least looking at… four or five possibilities," he tells FlightGlobal, speaking in a Bombardier conference room adjacent to Montreal-Trudeau International airport on 13 September. "Eventually, we're going to say, 'It's this one', and we're going to put the entire company behind it."
Bombardier's transition away from everything not business jets began before Martel took the reins. After struggling for years under financial strain brought about by the CSeries development programme, Bombardier handed majority control of that project (now called the A220) to Airbus in 2018. It sold the Dash 8 turboprop programme to Longview Aviation Capital in 2019.
ALL ABOUT MEDIUM-, LARGE-CABIN
Martel was at the helm in 2020 when Bombardier divested its CRJ programme to Mitsubishi Heavy Industries and its aerostructures manufacturing business to Spirit AeroSystems. Bombardier completed its divestitures with the January sale of its rail business to French company Alstom.
The moves left Bombardier a "pure-play" business-jet company.
But Martel was not done.
In February, with the pandemic raging, Bombardier announced a new restructuring: it would end Learjet production, concentrate aircraft completions work in Montreal, cut some 1,600 jobs (mostly office workers) and reduce its Montreal footprint – changes aimed at saving hundreds of millions of dollars annually.
Efficiency improvements and the end of CRJ production left Bombardier with too much space in Montreal, Martel says. The company is divesting land and buildings at its "Plant 1" aerospace manufacturing site in the Montreal suburb of Saint-Laurent, where it produces Global and Challenger components. That divestiture could leave Bombardier with just 40% of its current Saint-Laurent footprint, it says.
"We are going to be completing that transaction any time. Soon," Martel says.
The company intends to use proceeds from the sales to help finance its new Global production facility, now under construction at Toronto Pearson International airport.
The decision to wind down Learjet – production is to end in the first quarter of 2022 – stemmed from the simple fact that Bombardier's medium-cabin jets (its Challengers) and large-cabin jets (its Globals) generate 90% of its business-jet revenue, Martel says.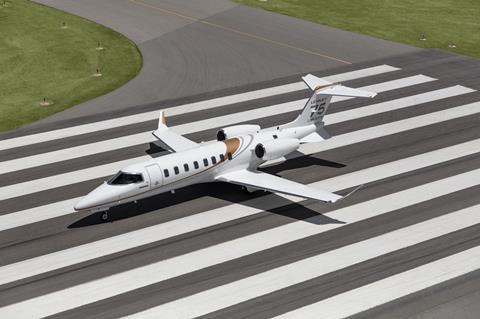 "Learjet was a smaller piece" in a "more-competitive, more-crowded" market, he adds. "When I have $1 to invest, where do I put that dollar? Today, it's pretty clear… It's either on the Global, either on the Challenger, or in the service business."
But Bombardier insists it will make good use of its Learjet facilities and staff in Wichita.
"Wichita has a lot of talented people," says Martel. "We are keeping the workforce busy in Wichita, and with potential growth."
AFTERMARKET PIVOT
Bombardier plans to "pivot" the Wichita site into a "Learjet Centre of Excellence" – an aftermarket hub for the roughly 2,000 Learjets still flying, says Bombardier vice-president of OEM parts and services Chris Debergh.
The company is transitioning Learjet production hangars into service bays and expanding Wichita's aftermarket capabilities – changes that will give the company capacity in Wichita to also serve Challengers and Globals, he says.
Additionally, Wichita will remain home to Bombardier's flight-test programme and its special-mission aircraft work.
The Wichita shuffle aligns with Bombardier's broader goal of expanding its aftermarket business. The company aims for aftermarket services to generate 27% of company revenue by 2025, or an estimated $2 billion, up from $1.2 billion in 2019.
To hit that goal, Bombardier must capture about half of all Learjet, Challenger and Global aftermarket work.
"It's about bringing jets back home to the OEM, which mean these jets were [serviced] somewhere else before," says Jean-Christophe Gallagher, executive vice-president of services, support and strategy. "That [is] a direct consequence of us having the necessary space, necessary manpower and, obviously, the necessary expertise."
Bombardier intends to increase its aftermarket hangar space from about 186,000sq m (2 million sq ft) today to 279,000sq m. It has been expanding its aftermarket presence in places like Opa-locka (near Miami), Berlin, London, Dubai, Singapore and Melbourne (Australia). The company expects to boost its aftermarket workforce from about 2,500 people today to near 3,000 by 2022.
"We are into a massive recruitment campaign around the world for technicians," Gallagher says.
The business-jet industry, like the broader aerospace sector, sagged as the pandemic took hold last year. But demand has since returned, leaving Martel optimistic.
"We've clearly seen a major trend [of] more people flying business" jets, he tells FlightGlobal. "And we believe it's going to stay."
In August, Martel described Bombardier's second-quarter results as "exceptional on all fronts", citing improved revenue, profitability and sales. In response, the company upped its 2021 revenue expectation by $200 million, to more than $5.8 billion.
Bombardier's competitors Dassault and Gulfstream also this year reported encouraging market conditions.
Martel says business-jet fleet operators have seen demand surge amid the pandemic – at least partly a result of the troubled state of the commercial airline sector. As airlines slashed schedules, some travellers made the leap to business jets, he says.
Demand has likewise buoyed the used-aircraft market, to where only 3-4% of the global used-aircraft fleet is up for sale, says Martel. Previously, he had not seen that figure be less than 7%.
"The other day, I was trying to find a Challenger 350 for a customer – there [were] three for sale in the entire world," Martel says. "And they're selling at a very high price."
That anecdote suggests Bombardier may have perfectly timed the July launch of its "Certified Pre-owned aircraft programme". The airframer has long brokered used jets. But the certified programme marks Bombardier's official entry into the business of buying, fixing up and selling pre-owned jets.
The "fixing up" part goes well beyond a bit of maintenance and a shine, says Chris Milligan, vice-president of Bombardier's pre-owned aircraft services. Rather, Bombardier makes the jets "look and feel new". That means new paint, refurbished cabins and updated avionics and connectivity systems, plus a one-year Bombardier-backed warranty. Think of it like buying a "certified" used car from a local dealer, except Bombardier's customers are buying multi-million-dollar jets.
By the end of September, the company expects to have delivered five certified pre-owned aircraft, including four Challengers and one Global, says Gallagher.
CLEAN-SHEET OPTIONS
In recent years, well before announcing the decision to shutter Learjet, Bombardier's business aircraft division had been pumping much of its resources into its larger jets.
It brought the clean-sheet 7,700nm (14,260km)-range Global 7500 – a $75 million machine – to market in 2018, then in 2019 achieved certifications for its 5,900nm-range Global 5500 and 6,600nm-range Global 6500, which replaced the 5000 and 6000.
Then on 13 September, Bombardier revealed it is updating its Challenger 350 to have a modern cabin, a reduced cabin-pressure altitude and new features including an auto-throttle. Bombardier aims for the "Challenger 3500" to enter service in the second half of 2022. The company also manufactures the Challenger 650, and update of the Challenger 600 that entered service in 2015.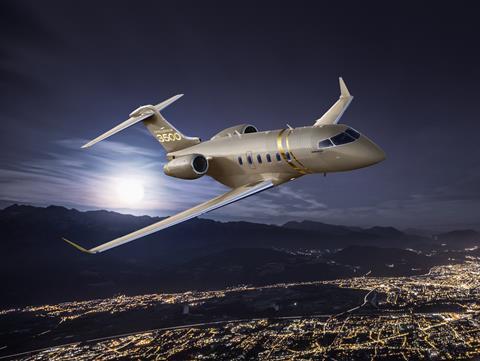 Ultimately, however, Bombardier will turn attention back to engineering a clean-sheet jet.
"There'll be a time [when] we're going to say, 'Okay, the market is ready. We need a new product,'" Martel says. "I'm studying all kinds of options."
Many factors will play a role. The company must, of course, "understand where the market is going", Martel says, meaning his team must identify the features – range, number of cabin zones, for instance – that customers most value.
"The challenge with our industry [is], you don't design this for the next five years," Martel says. "You design this for the next 30 to 35 [years], so you need to anticipate."
He sees potential for Bombardier's next aircraft to fill possible gaps in the existing market, perhaps an aircraft with capabilities differing from today's products.
Martel does not discount Bombardier moving forward with development of the Global 8000, the intended sister ship to the 7500. The company launched the 8000, which was to have 7,900nm of range, alongside the 7,000nm-range 7000 in 2010. But the 7000 became the 7500 in 2018 when Bombardier upped its range to 7,700nm. Development of the 8000 has since stalled.
"We're looking into this. That's an option," Martel says. "There's a remaining option… on the Challenger also."
Which path Bombardier takes will depend also on the state of engine technology and other factors, such as pressure to cut carbon output.
Martel thinks Bombardier could, within ten years, develop a jet that burns 40% less fuel – savings achievable through greater use of "sustainable aviation fuel", aerodynamic improvements and advances in engine technology.
"We believe it's possible," he says of a 40% emission reduction. "The majority of our R&D spending is focused on how… we get an airplane flying with much less emissions."
Exactly when Bombardier might make news with a clean-sheet product launch remains unclear, but such a move may not be imminent.
"We're not there yet," Martel says. "I promised the… financial market to be very disciplined in the next five years".
Story corrected on 23 August 2022 to note that regulators certificated the Global 5500 and 6500 in 2019, not 2018.