Boeing aims by mid-decade to be delivering 800 aircraft and taking in revenue of $100 billion annually, though its ability to actually meet those goals remains uncertain due to unresolved troubles that have kept its 2022 targets out of reach.
Company executives presented their goals on 2 November, laying out a plan to return the airframer to production and revenue levels it last achieved in 2018. Chief executive David Calhoun also made clear that Boeing has no immediate intention of launching a new aircraft development programme.
These messages come towards the end of a year in which Boeing has seemed unable to overcome many long-standing problems that plague aircraft programmes in both its civil and defence divisions.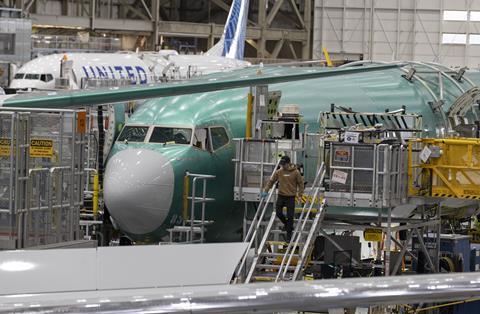 Though the company has in 2022 resumed 787 deliveries, it has also taken billions in losses on troubled military programmes, delayed several commercial aircraft certification timelines and failed to hit 737 output targets.
As a result, much about Boeing's future remains unclear, and opinions are split on whether postponing development of a new commercial jet is the right move. Financial analysts think it makes sense, while some those in the aerospace industry think Boeing might be falling deeper into a competitive hole.
"There are consequences to not investing," says Michel Merluzeau, aerospace analyst with AIR, noting that Airbus continues gobbling up market share in the narrowbody space.
By the time Boeing finally has a 737 replacement ready – which could be the early-to-mid 2030s – "Airbus will have a much more-significant installed base of aircraft", says Merluzeau.
Chinese competitor Comac might also have secured a stronger position, he adds. "Boeing is going to have to fight… There is a cost to taking back market share".
Boeing has yet to rebound financially or operationally from a several-year slump that started with the 737 Max crisis and carried through the Covid-19 pandemic. Like competitors, it is working to overcome supply chain and labour troubles.
In late October, Boeing reported losing $3.3 billion in the third quarter, largely because Boeing Defense, Space & Security (BDS) haemorrhaged cash, closing the period $2.8 billion in the red. Neither did Boeing Commercial Airplanes have a banner third quarter, losing $643 million.
Issues affected four military programmes: the KC-46 aerial refuelling tanker, T-7A jet trainer, MQ-25 carrier-based autonomous tanker and 747-based VC-25B presidential aircraft – the next Air Force One.
Boeing attributes its defence losses to pandemic-related supply chain and labour constraints, combined with engineering challenges.
FIXED-PRICE TROUBLES
But firm fixed price (FFP) contracts have played a role. Boeing's previous executive team had adopted an aggressive and risky strategy to win programmes such as the T-7 and KC-46 through FFP deals, which specify delivery prices and schedules, leaving manufacturers to absorb cost overruns.
There was reason behind the strategy. A recent Bloomberg Intelligence report notes that BDS had been "dwarfed by Boeing's commercial business until the pandemic". Boeing Commercial Airplanes (BCA), which in 2018 generated more than $60 billion of revenue and almost $8 billion in operating profit, could essentially subsidise defence programmes through costly engineering and manufacturing development phases, until they reached the more profitable production stage.
"We're trying to assess these programmes with real clarity and realism, with respect to what we're experiencing now," Calhoun said on 26 October. "[We are] not projecting a significant improvement… in the future."
Though many of Boeing's major defence programmes are now money losers, Calhoun insists they will pay off: "These programmes… will be key to margin recovery in future periods."
But profitability at BDS remains elusive. "The largest defence programmes have become a persistent drag on profit and cash flow as costs rise on fixed-priced contracts," Bloomberg Intelligence says.
"They've been sort of living with death by a thousand cuts," adds George Ferguson, Bloomberg Intelligence senior analyst. "It felt like every quarter, there was another charge, another charge and another charge."
At the same time, the financial backstop that had shielded the risky defence programmes eroded following the 737 Max disasters, declining air travel during the pandemic, and ongoing supply, labour and certification issues.
"They have got to get the supply chain stabilised, and delivering to the [final assembly] line on time," Ferguson says. "That's the key for this year."
GETTING ON TRACK
Several weeks after disclosing its performance in the third quarter, Boeing executives revealed a recovery roadmap to investors. The near-term focus will be addressing supply and labour problems and increasing aircraft production and delivery rates. Boeing has also been working to bring the 737 Max 7 and Max 10, and the 777-9 through certification.
In 2023, Boeing aims to deliver 400-450 737s – up from an estimated 375 in 2022 – and 70-80 787s. Boeing has had recent positive momentum on the Dreamliner programme, having resumed deliveries in August following a halt lasting most of the preceding 22 months. It had delivered 15 787s by the end of October, the most recent month for which the manufacturer has released data.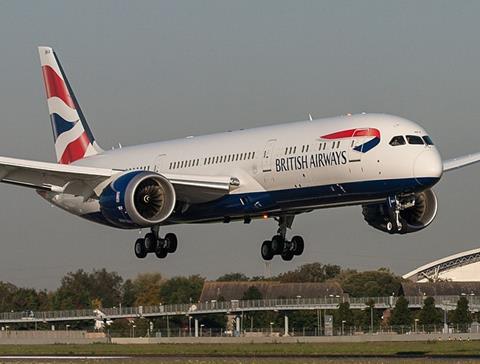 Executives also see a path for Boeing by 2025 or 2026 to be delivering about 800 aircraft and generating $100 billion in revenue annually. That would return Boeing – which reported revenue of $62 billion in 2021 – to its stature in 2018, when it posted $101 billion in revenue and delivered 806 aircraft.
"I want nothing more than to return money to you," chief financial officer Brian West told investors.
To hit 800 annual deliveries, Boeing aims to produce 50 737s, four 777s and 10 787s each month.
Some financial analysts are reassured that the plan rests on ensuring the long-term success of the 737 programme, which Ferguson calls BCA's "most important programme – the moneymaker".
"Everything else has little to no contribution to profits. So the 737 programme has to get going," he says.
MISSED TARGETS
But Boeing's ability to achieve those goals is not obvious. After all, 2022 – not 2023 – was to be the turnaround year.
In 2022, Boeing aimed to resume Max shipments to China, bring 737 production to 31 jets monthly, deliver 500 737s, achieve the Max 7's certification, and resume 787 deliveries, which had been halted owing to quality shortcomings with the type's composite fuselage.
Analysts also expected that in 2022 Boeing would finally launch a new narrowbody aircraft to counter Airbus' incredibly successful A321neo.
With the exception of resuming 787 deliveries in August, none of that has yet happened.
Instead this year, Boeing has delayed three aircraft certification timelines – the Max 7 to late this year or early 2023, the Max 10 to late 2023 or early 2024, and the 777-9 to 2025.
Meanwhile deliveries of the 737 Max to China remain held up amid troubled Sino-US relations – a thorny problem for which Calhoun in October expressed pessimism for a quick fix. "I have not gotten a single signal – and I'm surprised by it – that [Chinese airlines are] going to take deliveries in the near term," he said.
Likewise, twice in 2022 Boeing trimmed its full-year 737 delivery forecast, most recently in October, to 375 aircraft.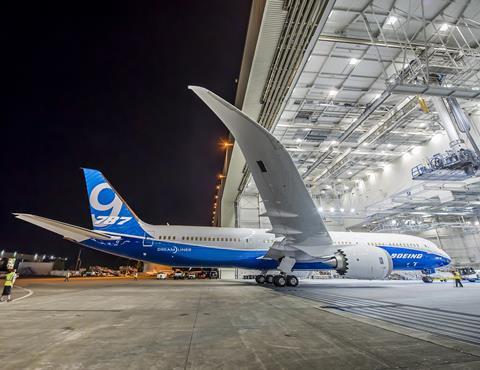 And though Boeing does not disclose month-to-month production rates, available information suggests its Renton 737 assembly site has been completing only around 20 – or perhaps a few more – 737s monthly. Boeing has attributed the slow pace to labour problems and shortages of parts, including galley and electrical components and CFM International Leap-1B engines, the exclusive powerplant on the 737 Max.
The 737 line has also suffered "quality problems", BCA CEO Stan Deal said on 2 November. A source within Boeing says the company this year repeatedly stopped 737 wing manufacturing to fix production defects, including miss-drilled holes, partly due to errors made by new staff.
When Boeing will iron out its supply wrinkles remains an open question, but analysts suspect this will not be soon.
"In 2023, we are going to see the same disruptions, or possibly more," says Alex Krutz, managing director at aerospace and defence advisory Patriot Industrial Partners. "I think it is going to take all of next year to correct some of these fundamental issues."
LINGERING DEFENCE TROUBLES
Calhoun has conceded BDS's performance has been lagging but says the company is focused on a turnaround, noting demand remains robust for military aircraft. The company received $5 billion in new orders during the most recent quarter, pushing its defence backlog to $55 billion, he says.
West adds that, after a year of hostilities in Europe and growing militarism in Asia, the company sees strong support in Washington for increased defence spending, with a similar trend in other Western capitals. "We see solid long-term markets both domestically and internationally," he says.
Boeing's legacy defence programmes – including the F/A-18 fighter, AH-64 attack helicopter and CH-47 Chinook heavy-lift helicopter – remain profitable thanks to overseas customers.
Also, the latest EX variant of the highly successful F-15 interceptor could provide a substantial source of new revenue.
But Richard Aboulafia, managing director of AeroDynamic Advisory, does not view that programme as a lifeline. While the US Navy will continue operating F/A-18s for years, foreign customers such as Canada have opted to replace the type with Lockheed Martin F-35s.
Aboulafia expects F-15EX purchases will be limited to the US Air Force due to the type's purchase price – which is looking to be even higher than that of the F-35A.
"No cylinders appear to be firing right now," he says of BDS.
West has repeatedly said Boeing intends to "de-risk" its military business. "Our mandate is to stabilise and deliver a very important product to our customers," he said in October.
But given the constraints of fixed-price programmes, Ferguson thinks Boeing can do little to dramatically improve defence profitability – other than by maximising its own efficiency.
Ferguson also thinks some high-volume programmes like the KC-46 hold promise, noting Boeing Global Services – the company's aftermarket arm – stands to make money off long-term support for the tanker. "In time, they will have follow-on orders, which they should be better prepared to deliver on time," Ferguson adds.
Aboulafia is more skeptical, noting the KC-46 is already out of development and in production – and still losing money.
"This just looks like mediocre decision making, greatly exacerbated by leadership and cultural shortfalls," he says.
Aboulafia and Ferguson suspect the low-volume VC-25B programme will forever remain a money loser for Boeing.
UNCERTAIN FUTURE
Boeing's failure to launch a new aircraft has particularly troubled some aerospace analysts who expected the company by now would be well into developing a "mid-market" aircraft. Boeing's executives had, just a few years ago, been talking about such a jet, which was to carry some 270 passengers, have range of 4,000-5,000nm (7,408-9,260km) and counter Airbus's successful A321neo.
The Airbus jet – particularly a new 4,700nm-range A321XLR – targets a segment to which Boeing clings with ageing 757s and its uncertificated 737 Max 10, which cannot match its rivals range and payload. Observers expected Boeing would follow a mid-market jet by launching a 737 replacement.
In fairness, Calhoun never promised a new aircraft launch in 2022. During the investor day, he dashed such speculation, saying neither propulsion technology, nor digital development and production tools, are sufficiently mature to support a launch any time soon.
"I don't think we're going to even get to the drawing board this decade," he says.
Analysts understand Calhoun's interest in putting the Max's recovery first, but some fear Boeing's unwillingness to launch a new aircraft is compromising its future.
Aboulafia has long said Boeing's inaction has allowed Airbus to significantly expand its share of the market. Following Calhoun's revelation, Aboulafia thinks that trend will accelerate, warning BCA could "die on the vine" – or that Boeing could be broken into separate companies.
Likewise, Merluzeau views Boeing as sacrificing product development "on the alter" of the Max.
He thinks delays could leave Boeing behind in developing modern manufacturing processes, and says Boeing might eventually wake up without the engineering expertise needed for its next aircraft.
The risk of delaying "is that you lose the expertise, you lose the talent, you lose the knowledge", Merluzeau says.