Honeywell reached a $13 million settlement with the US Department of State over alleged violations of the Arms Export Control Act and the International Traffic in Arms Regulations (better known as ITAR).
Honeywell agreed to the settlement on 3 May. The Department of State has agreed to suspend $5 million of the penalty on the condition that the funds will be used for "remedial compliance measures to strengthen Honeywell's compliance program", it says.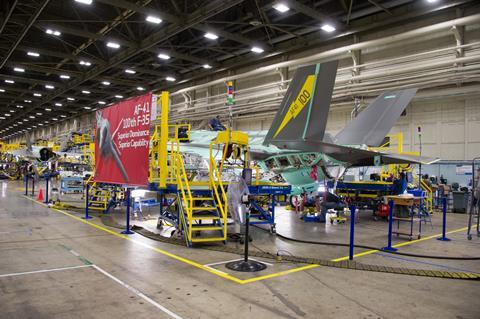 The penalty comes after the company repeatedly, between 2011 and 2018, sent drawings of parts of US military aircraft to suppliers in foreign countries, including China, asking for price quotes, according to a Department of State charging letter. The manufacturer voluntarily disclosed the violations.
The engineering prints showed layouts, dimensions and geometries for manufacturing castings and finished parts for military aircraft and engines, as well as other hardware and weaponry. Drawings for parts within the Lockheed Martin F-35 and F-22 stealth fighters, Boeing B-1B supersonic bomber and Pratt & Whitney F135 turboshaft engine were included. In addition to China, Honeywell allegedly also sent the drawings to Canada, Ireland, Mexico and Taiwan.
The civil penalty against Honeywell comes as Western aerospace manufacturers face an increasingly complex relationship with China, a country many had invested in heavily a decade ago hoping to ride to ever higher revenue growth. Now, those same firms are caught between a new US-China geopolitical rivalry.
And, the list of companies that US aerospace manufacturers cannot deal with is growing. In December, the US government released its Military End User list, a compilation of dozens of Chinese and Russian companies with links to military programmes. US aerospace firms are restricted from exporting sensitive technologies to these foreign companies.
The list included Xian Aircraft Industrial Corporation, a subsidiary of state-owned Aviation Industry Corporation of China, which is developing the MA700, a twin-engined, turboprop airliner. Xian is on the Military End User List because it is also builds the H-6 bomber, and is developing the Y-20 strategic airlifter and the H-20 stealth bomber.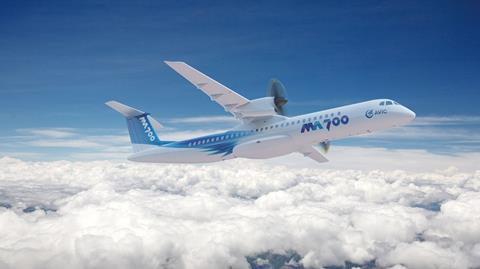 The MA700 programme includes several US suppliers. Collins Aerospace was chosen to supply avionics, Parker Aerospace is to supply the fly-by-wire flight control actuation systems, as well as hydraulic system and landing gear servo valves. Eaton is to supply fuel system components and Honeywell is to provide auxiliary power units. When FlightGlobal contacted Honeywell in January about its involvement in the MA700 the company declined to comment.
Yet, as the MA700 illustrates, entanglement with China and the Pentagon is hardly just a Honeywell problem. Collins also does extensive business with the US Department of Defense.
Moreover, Boeing is also heavily reliant on Washington for military-related business and Chinese airliners for its larger commercial aircraft division. In partnership with state-owned Commercial Aircraft Corp of China, the company opened a 737 completion plant in China in 2018, anticipating demand for thousands of new narrow-bodies from Chinese airlines in the decades to come.
Indeed, even as the Honeywell example illustrates cybersecurity challenges of doing business with China, Boeing is betting part of its commercial future on aerospace design software developed for US Department of Defense programmes. The company said on its first quarter earnings call in April that it believes the next generation of airliners will set themselves apart by the way they are engineered and constructed, rather than solely via more efficient engines.
The company has used this model-based systems engineering approach – a common set of digital designs for engineering, manufacturing and maintenance, as well as flight simulations – on its aircraft designs for the defence industry, including the T-7A Red Hawk advanced jet trainer and the Airpower Teaming System loyal wingman unmanned air vehicle. Model-based systems engineering software tools allow aircraft builders to create a digital twin of a design and then explore its total lifetime cost in various simulations.
For companies like Boeing, that want to do business with the Pentagon and China – and in some cases transfer knowhow from the military world to the commercial world – regulatory compliance will certainly be a growing concern and focus.